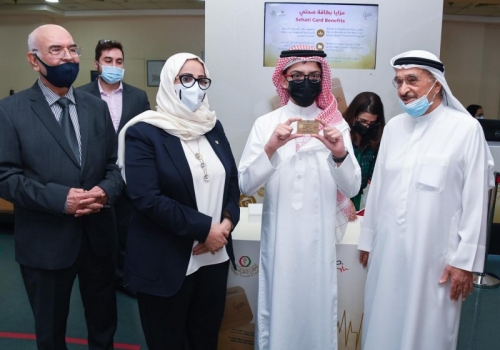 Rollout of chip-enabled Sehati card begins in Muharraq
TDT | Manama
The Daily Tribune – www.newsofbahrain.com
Digital Bahrain found a huge fillip yesterday by rolling out Sehati cards, which are poised to change the health landscape of the Kingdom. The move aims at making Sehati the backbone of Bahrain's healthcare care, which is free to Bahraini citizens and subsidized for non-Bahrainis and dates back to 1960.
The chip-enabled card, which has the "Choose Your Doctor" scheme, stores patients' medical history, test results, diagnoses and prescription details. This new digital step in healthcare allows Bahrainis to enjoy seamless transfer of their health data between private and public healthcare facilities, opening up a new world of possibilities.
The move also comes soon after the Kingdom announced its intention to join SEHA, the virtual hospital network of Saudi Arabia, which is also one of the largest of its kind in the world. The first batch of cards, part of the National Health Insurance Programme, was distributed to citizens affiliated with the Halat Bu Maher Health Centre in Muharraq yesterday.
The nationwide rollout of the card will be gradual at a later stage. The launch was part of the implementation plan of health insurance and autonomy systems, in line with the National Health Plan 2016-2025 endorsed by the Cabinet. Most importantly, all of these happen in Bahrain by ensuring data privacy.
While guaranteeing users access to all primary healthcare services and swift inter-hospital data transfer, Sehati takes extreme care to ensure privacy. All information on the card comes encrypted and accessible only to physicians.
The card, reports say, will be available at three health centres in the Muharraq Governorate and later in three more centres before starting the nationwide rollout. Health Minister, Dr Jaleela S Jawad Hasan, said the move aims at improving the quality of services, best practices and international standards related to primary health care.
"Efforts to develop the health system in the Kingdom so as to be able to deliver the best services to the citizens and residents will continue unabated, in line with the wise directives of His Majesty King Hamad bin Isa Al Khalifa, the follow-up of His Royal Highness Prince Salman bin Hamad Al Khalifa, the Crown Prince and Prime Minister," stressed Supreme Council of Health President, Lieutenant-General Dr Shaikh Mohammed bin Abdulla Al Khalifa.
Board of Trustees Chairman of Primary Healthcare Centres, Dr Mohammed Abdulwahab Mohammed, and several officials were also present.