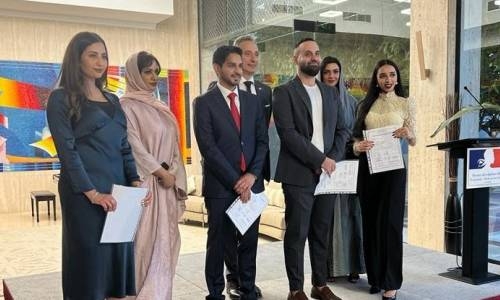 Four Bahraini doctors complete medical specialisation programme
TDT | Manama
The Daily Tribune – www.newsofbahrain.com
French Ambassador to Bahrain Jerome Cauchard has honoured four Bahraini doctors for successfully participating in the Franco-Bahraini medical specialisation programme with French language B2 level diplomas.
The programme is within an intergovernmental agreement signed in 2019 during the visit of His Majesty King Hamad bin Isa Al Khalifa to France.
The French Embassy in Manama is following up on its implementation.
Bahrain-France cooperation is a major basis for relations between the two countries, the French embassy said in a statement.
"At a time when the world is going through an unprecedented health crisis, medical cooperation needs to exist and develop between nations more than ever.
This cooperation in the field of Health, France and Bahrain has made it concrete through this magnificent programme."
All the students in the class, like their predecessors last year, passed the language tests with high scores.
They will take off for France in November to start their new adventure.
The Bahraini doctors, Dr. Rashed Noaman Al Hasan, Dr Jalal Toorani, Dr Alanood Al Meraisel and Dr Shaikha Alasam, will learn and practice their medical specialisation for four to six years before returning in the Kingdom.
Ambassador Cauchard congratulated the Bahraini doctors at a ceremony attended by their hospital director as well as members of their family, and eminent personalities from the Ministry of Health, at the Residence of France.
The ambassador hailed their performance and presented to them their language diplomas, wishing them further success.