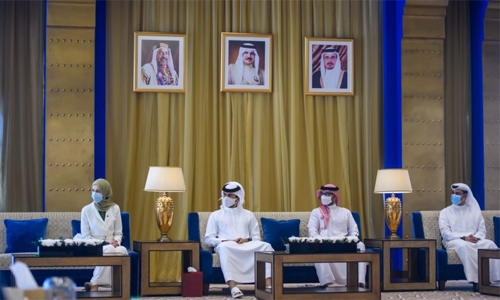 HH Shaikh Nasser stresses role of voluntary work
TDT | Manama
The Daily Tribune – www.newsofbahrain.com
Voluntary work is an important symbol of progress, prosperity and advancement. This was pointed out by HM the King's Representative for Humanitarian Work and Youth Affairs, HH Shaikh Nasser bin Hamad Al Khalifa.
He noted that the kingdom is among advanced countries in the field of voluntary work, in light of the prominent role played by Bahraini youth, who enjoy the interest and support of His Majesty King Hamad bin Isa Al Khalifa.
HH Shaikh Nasser was speaking while receiving yesterday, in the presence of Youth and Sports Affairs Minister, Ayman bin Tawfiq Al Moayyed, a number of volunteer students from the Royal University for Women (RUW).
HH Shaikh Nasser lauded the great role played by volunteer students at the RUW in organising social events and activities that showcase Bahraini youth's dedication, distinguished potentials, and ability to represent the kingdom at international gatherings.