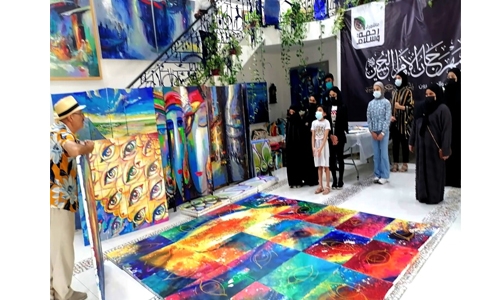 Imam Hussein Art Festival inaugurated
TDT | Manama
The Daily Tribune – www.newsofbahrain.com
The Jaffari Endowments Department announced its sponsorship of the 22nd edition of the Imam Hussein (PBUH) Art Festival under the supervision of plastic artist Abbas Al Mousawi.
The event, which is held under the slogan "Ashura … Mercy and Peace" in cooperation with a number of social institutions, features the unique work of artists.
Jaafari Endowments head Yousef bin Saleh Al Saleh said that the festival represents a distinguished Husseini cultural initiative over many years, and has become one of the important moves in reviving the Ashura season in the Kingdom of Bahrain.
The festival was inaugurated in the studio of Abbas Gallery in the presence of Al Mousawi and Al Kawthar Society for Social Welfare President Hussein Al Ali, a number of its board members, as well as a group of artists.
More than 100 male and female artists are participating with their work showing the aspirations of humanity for salvation from the coronavirus (COVID-19) pandemic.
Al Mousawi said that over two decades the festival has established wide and bright areas of Hussein's work and his messages through the various arts of creativity.
The festival has also formed a unique umbrella for free expression in colour, word and image of the goals, as well as the lofty contents that the renaissance of Imam Hussein carried.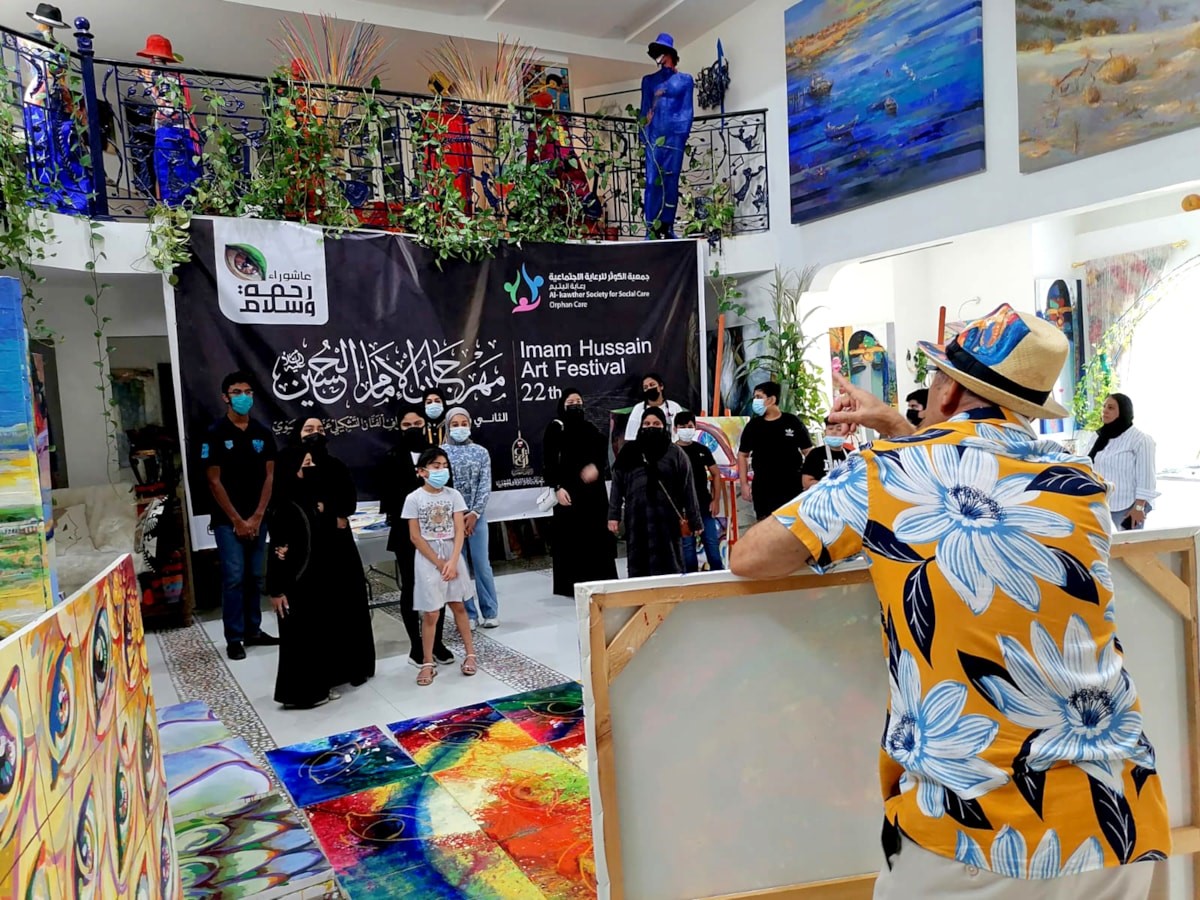 Al Mousawi emphasised that those principles became a model over time, and through this festival, "we were able to confirm the human and civilisation dimensions and the great values that Ashura carried," he added.
"This year's slogan, "Ashura ... Mercy and Peace", is confirming that the goals of Ashura were and still are derived from the great history of the march of Imam Hussein, and advances in its noble message and mercy," Al Mousawi said.
'Doctor of Humanity 2' initiative For the second year in a row, the festival includes the "Doctor of Humanity" initiative. This solidarity initiative comes to thank and appreciate the efforts of frontline workers in confronting the coronavirus to preserve the health and safety of all.
Te festival will honour the national medical team and a number of frontline workers in appreciation of their great sacrifices.
Events and competitions The Imam Hussein (PBUH) Photography Competition will be launched, which aims to revive the Ashura season with an artistic vision through the lenses of photographers in the Kingdom.
Cash prizes will be allocated to the winners according to the conditions of the competition.
The festival also features a variety of activities, including "Manuscripts from Ashura" by artist Adel Al Shihabi and "Tales of Ashura", which are daily flashes for children inspired by the values of Ashura presented by Al Mousawi, as well as other charitable and social activities that constitute highlights of this year's Ashura season.