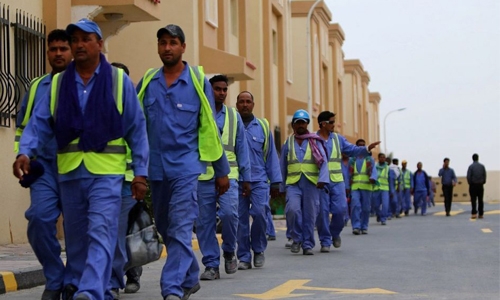 Bahrain makes bi-yearly medicals mandatory for expatriate workers from today
TDT | Manama
The Daily Tribune – www.newsofbahrain.com
Periodic medical checkups every two years are now mandatory for expatriate workers, starting today. According to Labour Market Regulatory Authority, the bi-yearly check-ups are for expatriates working "in commercial and industrial premises related to public health." Workers in establishments handling food, cosmetics, health clubs and resorts come under this new decision.
A complete list of occupations that require medical examination is available on this link - https://bit.ly/3fcZsEh Employers should book an appointment for their expatriate employees through Bahrain eGovernment periodic Medical Checkup Appointment service. Click this link for making an appointment - https://bit.ly/3x8fuWg E-Government authority has developed the electronic system to support the Ministry of Health.
The new service allows booking appointments for expatriate employees in private hospitals, view, and reschedule the appointments. The service also allows employers to view their employees' health check-up fitness reports.
The check-up, which repeats every two years, aims at preventing the spread of "communicable diseases", said Dr Maryam Al Hajri, the Assistant Undersecretary for Public Health at the Ministry of Health.
The move, Al Hajri said, is as per Ministerial Resolution No (15), Resolution (5) of 2021 and Resolution (71) of 2021, regulating periodic medical check-ups of expatriate employees in commercial and industrial premises.
The resolutions oblige employers to do period medical check-ups for workers every two years. The workers, Dr Najat Abu Al-Fateh, the Director of the Public Health Department at the Ministry of Health, said, will get a certificate after completing the tests, which have a prescribed fee structure. "If the certificate expires, workers are not allowed to continue their jobs," said Dr Al Fateh.