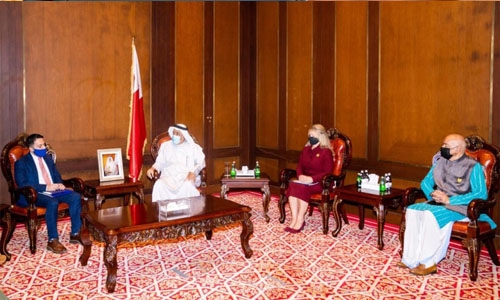 King Hamad Global Centre for Peaceful Coexistence Chairman receives EU delegation representative
TDT | Manama
The Daily Tribune – www.newsofbahrain.com
King Hamad Global Centre for Peaceful Coexistence Board of Trustees Chairman Dr Shaikh Khalid bin Khalifa Al Khalifa held a key meeting yesterday with the First Secretary at the Delegation of the European Union in Riyadh accredited to Bahrain, Angelos Lenos.
They discussed ways of cooperation between the centre and the EU in organising joint activities in the fields of tolerance and peaceful coexistence, ways to benefit from the programmes and courses offered by the centre at the King Hamad Cyber Peace Academy and the King Hamad Programme for Faith in Leadership in cooperation with Oxford and Cambridge universities.
Dr Shaikh Khalid reviewed the history of religious tolerance and peaceful coexistence in the Kingdom, the efforts of Bahraini rulers throughout history in promoting the march of tolerance among all spectrums of society, and the development and growth that the country reached during the prosperous era of His Majesty King Hamad bin Isa Al Khalifa.
He praised the level of friendship and cooperation relations between Bahrain and the EU countries, and the good efforts made by the delegation to strengthen bilateral relations that contributes in promoting freedoms and establishing principles of respect for differences and the preservation of human dignity.
Lenos expressed his appreciation for the efforts to spread the values of tolerance and coexistence between different spectrums locally and globally, praising the Kingdom's efforts under the leadership of His Majesty the King in promoting the peace process in the region.