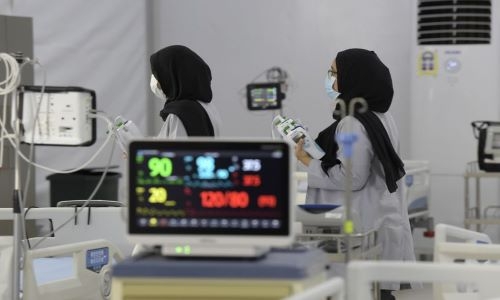 HRH Prince Salman directs six more health centres across Bahrain to operate 24 hours a day
TDT | Manama
The Daily Tribune – www.newsofbahrain.com
His Royal Highness Prince Salman bin Hamad Al Khalifa, the Crown Prince and Prime Minister has directed six more health centres across the Kingdom to operate 24 hours a day, bringing the overall number to nine.
The health centres include the North Muharraq Health Center and BBK Center in Muharraq Governorate, the Hamad Kanoo Health Center, Youssef Engineer Health Center and Jaw Askar Center in the Southern Governorate, Sitra Health Center and Jidhafs Health Center in the Capital Governorate, and Mohammed Jassim Kanoo Health Center and Shaikh Jaber Health Center in the Northern Governorate.
The royal directives were aimed at strengthening the development and efficiency of the Kingdom's health sector and the quality of healthcare services to all.
Dr Jalila Al Sayed Jawad, Chief Executive Officer of Primary Health Care Centers, affirmed that the nine health centres will be fully equipped to work round the clock, providing medical coverage for the immediate treatment of urgent cases related to family medicine.
Incoming cases would also be referred as emergency cases to hospitals, if necessary, as ambulances would be operating at some of the centres.
Dr Al Sayed expressed her thanks and appreciation for the diligence shown by Chairman of the Supreme Council of Health, Lieutenant-General Dr Shaikh Mohammed bin Abdullah Al Khalifa, and by Health Minister Faiqa bint Saeed Al Saleh in implementing the royal directives.
She also noted the importance of the successful joint co-operation between the executive and legislative authorities and their efforts to meet and exceed the expectation of citizens for enhanced health service availability.
The Health lauded HRH the Crown Prince and the Prime Minister's keenness on following up citizens' health needs and directives to enhance the quality of medical services for patients.
She affirmed full readiness to coordinate with primary healthcare centres.