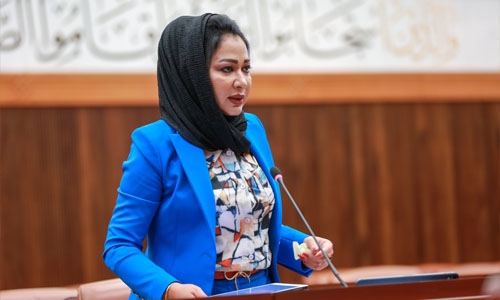 Saudi, Bahrain shuras reject European Union accusations
TDT | Manama
The Daily Tribune – www.newsofbahrain.com
Jamila Ali Salman, the Second Deputy Speaker of the Shura Council, yesterday thanked the Shura Council of Saudi Arabia for backing Bahrain's proposal to adopt a unified stance against the position of the European Parliament members on the rights situation in the Gulf States.
Jamila Ali Salman said the move by the Saudi Shura Council reflects the depth of the brotherly ties enjoyed by the two countries.
Bahrain called for a unified stance on the issue during the fourth meeting of the Gulf-European Parliamentary Committee last March.
The European Parliament had accused Bahrain of harassing rights defenders and accused Bahrain of lifting a de facto moratorium on the death penalty, which were all categorically rejected by the Kingdom.
Dr Abdullah Mohammed Ibrahim Al-Sheikh, the Chairman of the Saudi Shura Council, had categorically rejected the politicisation of the human rights issued and selectivity in dealing with it and exploiting it.
He also called on the European Parliament members to adhere to neutrality, objectivity, and non-selectivity and respect the cultural diversities of nations around the world in their work.
Dr Al Sheikh also called for confronting attempts to impose cultural hegemony on the societies in the Gulf. Jamila Ali Salman said the gulf legislative council forms a powerful parliamentary force and will act together to confront repeated attempts to interfere in the internal affairs of the GCC countries.
She also refuted the inaccurate information and data on which the positions of the European Parliament and other international organisations are based, especially in human rights. Ali Salman called on the European Parliament members to remain aware of the advanced steps the Arab nations had made in this field.
The Deputy Speaker also emphasised that cooperation and integration between shura and representative councils of the Gulf Cooperation Council nations are one of the pillars of the Gulf Parliamentary world.
"Gulf parliaments play an important role in highlighting the achievements of the Gulf during their participation in the regional and international parliamentary forums," Jamila Ali Salman said.