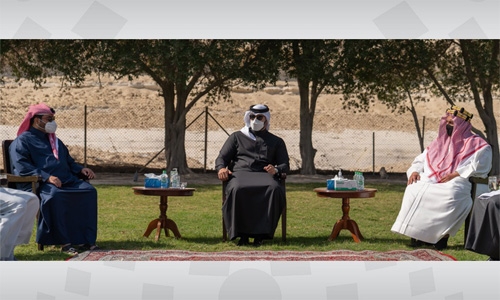 Bahrain to enhance cooperation with international horse racing clubs
TDT | Manama
The Daily Tribune – www.newsofbahrain.com
His Highness Shaikh Isa bin Salman bin Hamad Al Khalifa, Chairman of the Rashid Equestrian and Horse Racing Club High Committee chaired a meeting of the Rashid Equestrian and Horse Racing Club (REHC) High Committee, at Al-Raffa in Sakhir.
HH Shaikh Isa expressed appreciation to His Majesty King Hamad bin Isa Al Khalifa for his appointment as Chairman of the REHC High Committee, stressing his aspirations to achieve the desired goals for which the club was founded, reflecting the visions and aspirations of HM the King.
HH Shaikh Isa emphasised the importance of further strengthening the REHC High Committee's plans and initiatives, as well as redoubling efforts to achieve all strategic goals.
Topics on the agenda of the REHC High Committee were discussed and the following decisions were made:
• To enhance cooperation with Gulf-based and international horse racing clubs
• To expand the club's activities, and facilitate and attract foreign participation in local races
• Develop local investments for the REHC
• Develop the administrative management of the horse breed registry
HH Shaikh Isa emphasised that the unwavering support provided by HM the King to the Kingdom's equestrian offering has led Bahrain to hold a prominent position in this regard.
HH Shaikh Isa went on to highlight the support provided to horse-racing by HRH the Crown Prince and Prime Minister and his contributions to the advancement of the sport, the multiplicity of its activities and its preservation for future generations.
HH Shaikh Isa welcomed the Royal Directives appointing HH Shaikh Abdullah bin Isa Al Khalifa as Honorary President of the REHC, noting HH Shaikh Abdullah's efforts and contributions to equestrianism, especially his achievements in support of increasing Bahraini youth participation in the sport.
Furthermore, HH Shaikh Isa congratulated the REHC High Committee members on their appointments, wishing them success in fulfilling the Committee's goals and serving the Kingdom's equestrian sports sector.