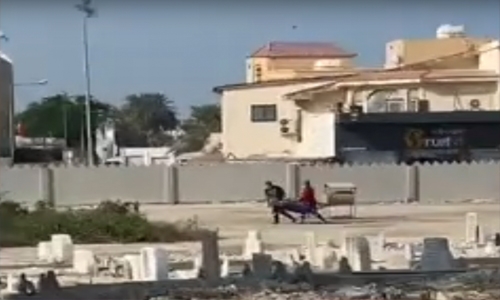 Police arrest two for hunting birds in Muharraq cemetery
TDT | Manama
The Daily Tribune – www.newsofbahrain.com
Police booked two men for illegally hunting birds, that too inside a cemetery.
The whole episode began with someone uploading a video of two men hunting birds inside a cemetery in Muharraq.
The clip shows two men hurrying, amid the gravestones, to a parked vehicle carrying, presumably dead birds, wrapped in a sack-like material.
The video shows them throwing the heavy object they were carrying into the rear of their white Nissan pickup truck, looking around, and then driving away through the gates of the cemetery.
Apparently, they were unaware that their actions were being taped. The clip was then uploaded on social media, which was then widely shared, also catching the attention of the authorities.
Police quickly had the culprits on their radar and opened an investigation. Officers tracked down the culprits soon and took them into custody.
In a statement, Muharraq police said, they took legal measures against two men aged 32 and 37 years for hunting without a license.
According to Decree No 2 of 1995 regarding the protection of wildlife in Bahrain, hunting in the whole country is prohibited without special permission.
Police also pressed charges against them for harming wildlife. Now they are to face Public Prosecution.