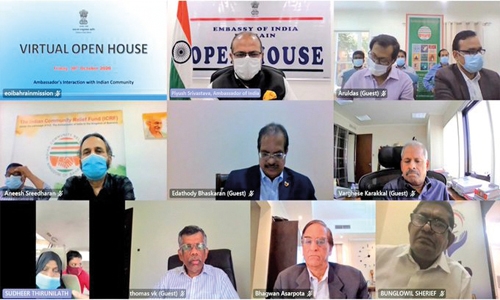 Indian Embassy Bahrain holds virtual open house
TDT | Manama
The Daily Tribune - www.newsofbahrain.com
The Indian Embassy held a virtual Open House on Friday during which Ambassador Piyush Srivastava and the consular team interacted with the Indian community members for the redressal of urgent and non-routine consular and labour issues. Ambassador briefed the participants about the general positive developments on issues being-faced by Indian nationals and listened and redressed specific consular, and labour issues.
Amnesty, Visa Extension
Ambassador conveyed thanks and appreciation to Bahrain for extending the validity of all visit-visas till 12 January 2021 and encouraged community members to make use of the current Amnesty valid till 31 December 2020. Ambassador encouraged all to follow the embassy's website and social media accounts for updates on COVID-19 related SOPs, travel-related information as well as the special drives carried out by the embassy on closed holidays to expedite the attestation of Educational and Power of Attorney documents.
Air bubble
The embassy said the weekly cap on the number of passengers for travel from India to Bahrain under 'Air Bubble Arrangement' has been marginally increased and that it is trying to raise this cap because of the high demand and increasing numbers of passengers. The passengers can now book their tickets directly through airlines' website or travel agents. Till date, more than 35000 Indian nationals have travelled from Bahrain to India through various flights under Vande Bharat Mission (VBM), and over 10000 Indian nationals have returned from India to Bahrain. During the session, some of the grievances were resolved, on the other matters requiring documents embassy said will follow up and resolve them soon.