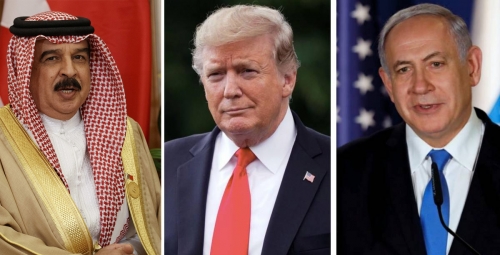 Another historic breakthrough: Bahrain normalise ties with Israel
TDT | Manama
In a game-changing decision, Bahrain has announced normalising its ties with Israel.
The historic announcement follows a telephonic conversation between His Majesty King Hamad bin Isa Al Khalifa, the US President Donald Trump and Israeli Prime Minister Benjamin Netanyahu.
As agreed during the talks, Bahrain will establish full diplomatic relations with Israel.
"Another HISTORIC breakthrough today!" Trump tweeted following the announcement.
"Our two GREAT friends Israel and the Kingdom of Bahrain agree to a Peace Deal – the second Arab country to make peace with Israel in 30 days!"
Trump also shared on this twitter feed a joint statement describing the deal as a "historic breakthrough to further peace in the Middle East."
King Hamad and Prime Minister Netanyahu expressed their deep appreciation to Trump for his dedication to the region, the statement said.
The statement also commended the UAE and Crown Prince Sheikh Mohammed bin Zayed for his leadership on August 13, 2020, in announcing full diplomatic relations with Israel.
Bahrain, the statement said, also accepted Trump's invitation to join Israel and the UAE at the historic signing ceremony on September 15, 2020, at the White House.
Trump, earlier in a White House news conference on Thursday, said, "You'll be hearing other countries coming in over a relatively short period of time. And you could have peace in the Middle East."
The current decision also follows Bahrain opening its airspace to Israeli planes flying to the UAE, a day after Saudi Arabia announced that it would allow Israeli overflights to the UAE.
Israel and the UAE said on Aug. 13 they would normalise diplomatic relations in a deal brokered by US President Donald Trump that reshapes the order of Middle East politics from the Palestinian issue to the fight against Iran.
Following which UAE President Khalifa bin Zayed Al Nahyan issued a decree abolishing a boycott law as part of "the UAE's efforts to expand diplomatic and commercial cooperation with Israel, leading to bilateral relations by stimulating economic growth and promoting technological innovation."
The current decision also makes Bahrain the fourth Arab country to reach such an agreement with Israel since exchanging embassies with Egypt and Jordan decades ago.