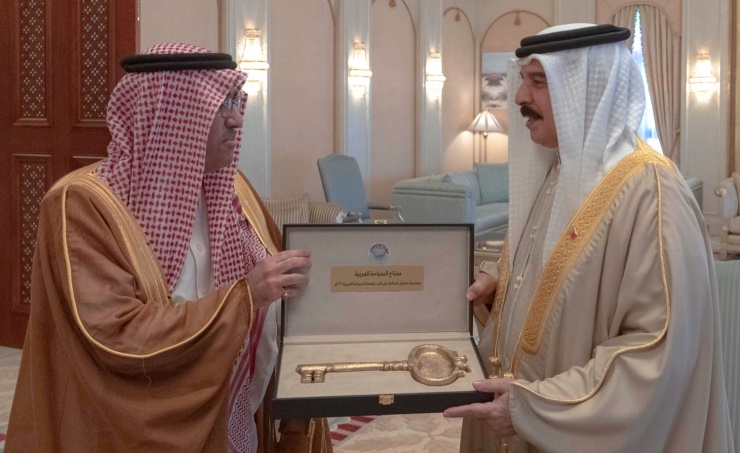 HM King receives 'Key of Arab Tourism 2020'
His Majesty King Hamad bin Isa Al Khalifa received here today Chairman of the Arab League's Arab Tourism Organisation (ATO), Dr. Bandar bin Fahd Al-Fahid, who is currently on a visit to the kingdom.
HM the King was handed over the "Key of Arab Tourism 2020" by ATO Chairman.
The move is in recognition of HM the King's support for enhancing cooperation between Bahrain and ATO in the tourism sector, and marking the designation of Manama as "Capital of Arab Tourism for 2020".
HM the King welcomed ATO Chairman, and expressed thanks and appreciation to him and all ATO officials, praising the major role by the Arab Tourism Organisation to develop joint Arab tourism action through stimulating joint investments, qualifying specialised competencies and enhancing tourism exchange among Arab countries.
HM King Hamad lauded the fruitful cooperation between the Ministry of Industry, Commerce and Tourism, the Bahrain Tourism and Exhibition Authority (BTEA) and the Arab Tourism Organisation in launching projects ad holding tourism programmes to visit Bahrain's civilisational and cultural landmarks and monuments that have entitled it to become a major destination on the map of world tourism.
HM the King wished ATO Chairman and officials every success in serving Arab tourism.
Dr. Bandar bin Fahd Al-Fahid extended sincere thanks and appreciation to HM the King for his keenness to support and encourage cooperation between Bahrain and ATO in the field of tourism.
He also congratulated HM King Hamad on the well-deserved designation of Manama as Capital of Arab Tourism for the second time, lauding HM the King's leadership, and praising the efforts exerted by Bahrain to enhance joint Arab action.
He affirmed that Bahrain boasts major tourism features, lauding the progress of the kingdom's tourism sector, citing its distinguished heritage sites and cultural monuments.