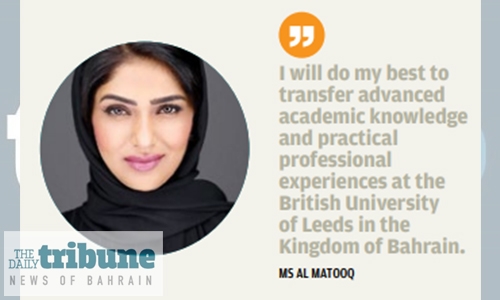 Key academic role for Bahraini woman at UK university
The prestigious British University of Leeds has announced the selection of human resources consultant, Bahraini Abeer Al Matooq, as a member of the Executive Education Programmes of the University's Business School, to be the first Bahraini to hold membership of this programme.
Under this selection, Ms Al Matooq will work side by side with a group of her colleagues from various countries around the world to spread the best global human resources practices to institutions, companies and organisations around the globe, including the Kingdom.
Her selection in this programme membership is based on her experience, which extends for about twenty years in the field of human resources, individuals development and employee empowerment.
Ms Al Matooq expressed her pride in this choice, which comes to confirm once again that the Bahraini national cadres are indeed worthy of the attention of the prestigious international institutions, corporates and organisations, after those cadres have proven themselves and their capabilities in various local, regional and international forums, and this represents a natural result of the national efforts working to empower the Kingdom's human wealth.
Ms Al Matooq said that she will do her utmost to transfer advanced academic knowledge and practical professional experiences at the British University of Leeds in the Kingdom of Bahrain, and make it available to extend various students, employees, pioneers, business owners and others, and in different professional and scientific fields.