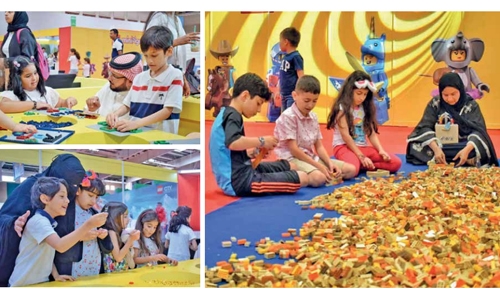 LEGO unleashes world of fun
The LEGO show is bringing to life a world full of fun at the Bahrain International Exhibition & Convention Centre. The event, which began yesterday and continues for five days is being organised by Bahrain Tourism and Exhibitions Authority (BTEA). Featuring millions of LEGO bricks, huge LEGO sculptures and models, doors to the show open daily from 10 am to 5 pm.
Tickets are priced at BD4. The show arranged focusing LEGO fans of all ages showcases the latest innovations from giant LEGO sculptures and models to fun challenges, contests and other exciting activities. Yousef Mohamed Al Khan, Director of Marketing and Tourism Promotion at the BTEA, said, "We are delighted to host the 'LEGO Shows' for the third consecutive year in a row." Last year, the show attracted 26,000 visitors and "we look forward to increasing the number in this year's edition."
"Hosting the 'LEGO Shows' comes in line with our efforts to increase the contribution of the tourism sector to the national economy," he added. "This year's edition promises an even bigger variety from previous years, as it features a larger number of play areas, challenges, and also boasts an increased number of activities that promote learning through play," said Reem Tawfiqi, Head of Tourism Relations at the BTEA. The family experience features new zones such as Speech Champions, The Power-Puff Girls, UniKitty and Jurassic World and many more.
"The 'LEGO shows' offers a variety of exciting experiences, featuring live characters from Star Wars and Disney to name a few, and LEGO zones featuring coloured bricks such as the famous Mosaic, Red & Green Pit, Desert Pit, and Black & White Pit," she added. The theatre show, Reem Tawfiqi said, brings together different elements to engage the audience and provide the opportunity to 'meet and greet' their favourite characters.