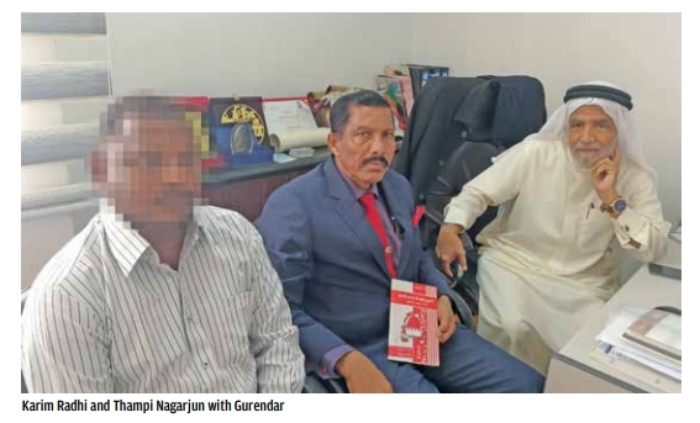 Despite repeated warnings, several employers in the Kingdom are taking advantage of the ignorance and innocence of labourers to confiscate their passports, accused a prominent trade union official. Employers have made it mandatory for foreign labourers to hand over their passports upon reaching Kingdom for safe custody, Thampi Nagarjuna, Advisor to the General Federation of Bahrain Trade Union, said.
Foreign workers' ignorant of their employment rights of the host country, or who might not have the will power to demand his rights, can be taken for exploitation. Most of the workers, Advisor Nagarjuna said, are coming from rural backgrounds. "They look at their village heads or employers as noble people whom they could trust blindly". "So when they are asked to sign a blank paper or hand over their passport, they promptly oblige."
This, he said, often leads the poor workers to traumatic experiences making them furthermore vulnerable to exploitation. "They are subjected to workplace exploitation and are often many times cheated by the employer," he pointed out. "Holding constant inspection visits to companies is the only remedy," he added. Thampi Nagarjuna is currently handling the case of Indian national Gurendar who was cheated by a company here.
"When Gurendar came to Bahrain he was promised a salary of BD 120. "However, after reaching Bahrain, the company made him sign a document saying, 'He is entitled to receive BD90.'" "Him being illiterate and ignorant, was not able to recognise the intensity of the situation he was in until it was too late. "He was not paid a salary at all for many months. "His passport was also taken by the company so he could not travel back to India."
Above all, Thampi Nagarjuna said, the company demanded him to pay BD600 to get his passport back. For a poor person like Gurendar, Thampi Nagarjuna said, "It was impossible, especially with a BD90 salary. Failing to get his passport back from 'safe custody, also left Gurendar to face the terrifying prospect of being stranded away from home, when his mother died. It was a heartbreaking experience and he was helpless. His passport was with the employer and he is not getting it back. Gurendar also tried complaining to authorities. Gurendar, Thampi Nagarjuna said, filed a complaint against his employer for confiscating his passport.
However, the employer denied having any knowledge of it. The case is currently ongoing. "In the meantime, he is still stranded here without a proper income," said the Advisor to the General Federation of Bahrain Trade Union.
Need regular inspections
Conducting regular inspection campaigns, Thampi Nagarjuna said, is the only option to prevent employers from doing violations.
"All companies employing expatriates, especially labourers, need to be inspected to check on violations such as holding of the employees' passport."
Hold awareness campaigns
Abdulkarim Radhi, the Assistant Secretary-General For Arab and International relation at the General Federation of Bahrain Trade Union, said, "There is a need for awareness campaigns to inform the workers of their rights."
"Many workers are ignorant about their rights and allow the employers to take advantage of them. In many cases, a complaint with the concerned authorities can fix the whole situation but the employees are unaware of their rights.
"Therefore an awareness campaign is needed to teach them about the rights they are entitled to and where they can go for support if they need it," he said.