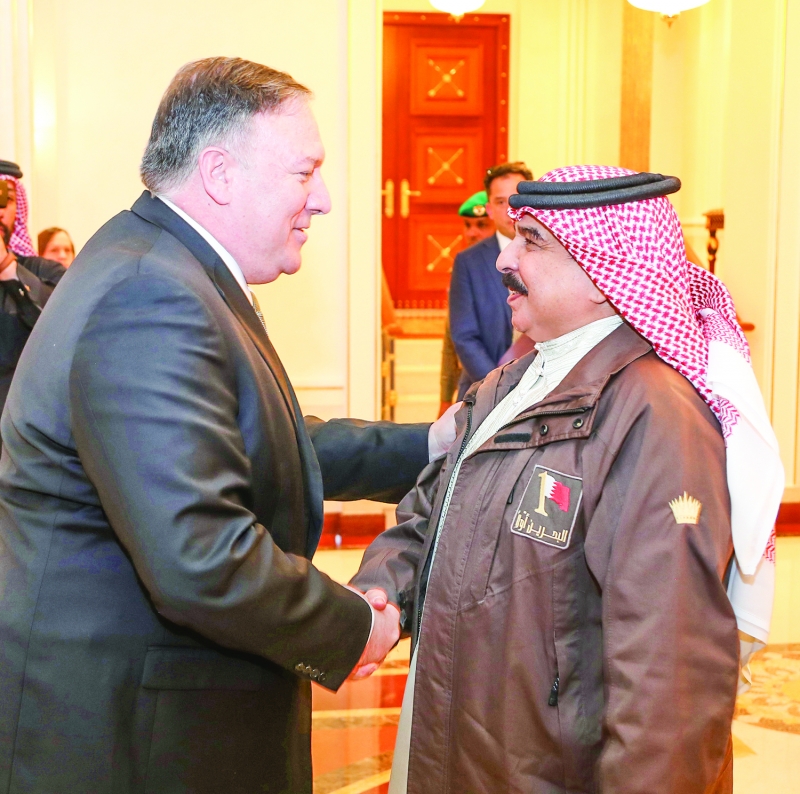 Partners in peace process
His Majesty King Hamad bin Isa Al Khalifa affirmed Bahrain's deep pride in its close relations and strong partnership with the United States of America, which extends over 120 years of co-ordination and co-operation to achieve shared interests at all levels. HM the King made the statement as he received yesterday in the presence of His Royal Highness Prince Salman bin Hamad Al Khalifa, Crown Prince, Deputy Supreme Commander and First Deputy Premier, Secretary of State Mike Pompeo who is on a visit to the Kingdom of Bahrain.
His Majesty welcomed the visit of the US Secretary of State to the Kingdom of Bahrain and stressed the importance of exchanging such visits to develop cooperation at all levels, especially in the political, economic and defence areas. His Majesty expressed the Kingdom's keenness to consolidate its relations with the US in order to serve the common aspirations and interests of the two friendly peoples, noting the active role of the US community and its contribution to the Kingdom's comprehensive progress. He stressed that the US community is always hailed and appreciated by the people of Bahrain.
The talks covered developments in the region in addition to the most important regional and international issues. HM King Hamad praised the historic US global role and its contribution to the consolidation of security, stability and international peace and its keenness to cooperate with Bahrain and friends in the region in order to build on accomplishments and achieve further progress and prosperity.