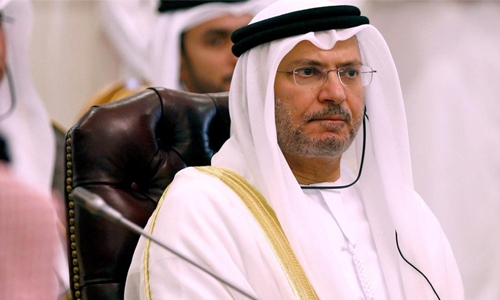 Arab block sans Qatar still strong, says UAE
The United Arab Emirates yesterday lashed out at Qatar for its support of extremism saying, "The political crisis will end when the cause behind it ends." Qatar, UAE Minister of State for Foreign Affairs Anwar Gargash tweeted, should end its support of extremism and its interference in the stability of the region." Bahrain, Kuwait, Oman, Qatar, Saudi Arabia and the UAE have repeatedly warned Qatar to stop supporting terrorism in the region.
"The main success of the council is in its economic aspects and the creation of a Gulf common market," UAE Minister of State for Foreign Affairs Anwar Gargash tweeted. The Gulf Cooperation Council (GCC) continues to function despite crisis with Qatar, he said adding that the upcoming summit in Riyadh under the presidency of Oman and despite the Qatari crisis indicates that "the Gulf Cooperation Council carries on."
Saudi Arabia's King Salman Bin Abdulaziz has invited Qatar's Emir to attend the December 9 gathering of heads of states but Doha has not yet said what level of representation it would send. The message was delivered by Secretary-General of the GCC Dr Abdullatif bin Rashid Al Zayani, during a reception by Minister of State for Foreign Affairs Sultan bin Saad Al Muraikhi. Bahrain's Foreign Minister Sheikh Khalid bin Ahmed Al Khalifa, in a statement to Asharq Al-Awsat, said that the Doha "has burned the return ships."
"There must be a new agreement and a new regime, and Doha should be placed under scrutiny," he said. "I do not know how Qatar will return. It has committed to the enemies of the region, such as Iran, and separated itself from the GCC. We are realistic in dealing with this issue and we don't want to waste more time," he affirmed. At last year's summit, held in Kuwait, Saudi Arabia, the UAE and Bahrain sent ministers or deputy prime ministers.