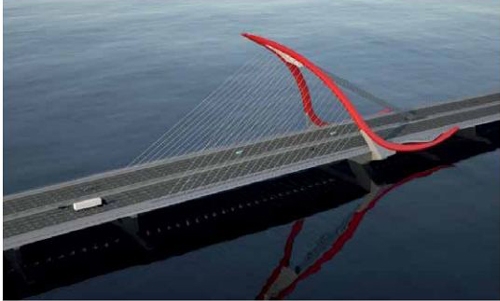 Fourth bridge to Muharraq will be ready by end 2019
The fourth bridge linking Muharraq and Bahrain islands will be ready by the end of 2019, says Muharraq Municipal Council Chairman Mohammed Al Sinan. Al Sinan said in an exclusive statement to Tribune that all entrances and exits of the causeway are completed.
The Council Chairman confirmed that the construction works of the roads linking the bridge with Manama and Muharraq are underway. The project, he told Tribune, costs around BD100 million and is funded by the Saudi Fund for Development. Al Sinan explained: "The fourth bridge will connect the fairly new investment projects in Muharraq with the existing commercial areas in Manama, such as the Diplomatic Area, Bahrain Bay and Bahrain Financial Harbour. This would be an effective boost to the Kingdom's economic movement.
The project would also serve the residential areas in the northern parts of Muharraq island and also ease the traffic flow towards Bahrain International Airport." "The bridge will consist of four to five lanes in each direction. This will have a big impact on the traffic jams in Muharraq and Manama, and would ensure a smooth flow of traffic," Al Sinan added. Works, Municipalities Affairs and Urban Planning Minister Essam Khalaf said last year that the fourth bridge would be one of the modern landmarks in Bahrain and also stated that the design of the project was approved by the Prime Minister HRH Prince Khalifa bin Salman Al Khalifa.
The Minister said that the project will provide an alternate road to residents of Muharraq Governorate residents, especially for those living in the villages of north Muharraq, including Galali, Samaheej, Busaiteen, Amwaj Islands and Diyar Al Muharraq, in addition to vital projects such as Bahrain International Airport and it will be connected with Muharraq ring road project.
On his part, Works Affairs Undersecretary in Works, Municipalities Affairs and Urban Planning Ministry Ahmed Al Khayat lately revealed that the construction works of the bridge will begin within the next few weeks. He said the project is one of the biggest in Bahrain and will be implemented by a joint Bahraini-Saudi company. Al Khayat said: "The width of the bridge is around 150 meters, and it connects the Al Sayah area in Muharraq with the northeastern shores of the Capital. It's around 90 meters above sea level."