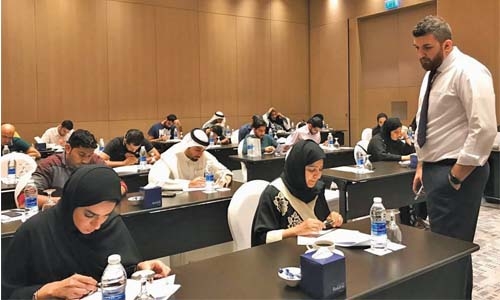 Entrepreneurship training camp held
Manama : A batch of 27 Bahrainis successfully completed an integrated training programme on entrepreneurship by the Institute of "Ebdaa Hub" under the title "Entrepreneurship Camp".
The ten-day programme ended with participants completing an examination with a professional certification from the British Center for Enterprise Management and Entrepreneurship.
These graduates represent the first batch of the training programme to reach 300 Bahraini entrepreneurs and employees this year, providing them with the basic skills and knowledge required to launch private projects and to further ensure the implementation of the best international standards in management and the various work joints.
The training programme consisted of four basic modules; Fundamentals of Management, Fundamentals of Marketing, and Fundamentals of Financial Accounting, as well as the basic personal skills of the entrepreneur and entrepreneur.
"The Entrepreneurship Camp is in line with national efforts to stimulate entrepreneurship in Bahrain, encourage entrepreneurship, create jobs, reduce import bills and diversify national economy," stated Khalil Al-Qahri, CEO of Ebdaa Hub.
"Through this camp, we aim to provide a shared space between the gathering of entrepreneurs where they showcase the opportunities and challenges, which will contribute to the exchange of practical knowledge among them and benefit from their experiences," Al-Qahri added.
He pointed out that entrepreneurs in the Kingdom of have opportunities to benefit from the system of support provided to them in addition to laws such as the allocation of part of government procurement from small and medium enterprises, and the launch of the Council for the development of small and medium enterprises, which is currently working on a comprehensive national plan to promote those institutions, 90 per cent of the national economy.