HTMi graduation ceremony held
Manama : Bahrain Institute of Hospitality and Retail (BIHR), a division of the A. Dadabai Group, held its first graduation ceremony for students who secured diploma in International Hotel and Tourism Management at Crowne Plaza Convention Centre here.
Thirty-two Bahraini graduates successfully completed 24 months rigorous training in the hospitality sector conducted by BIHR through training in classrooms, simulated labs and Internship. The event was attended by over 100 participants, distinguished guests, management and representatives from Tamkeen as well as top hospitality clients. All the graduates are employed at 4-star and 5-star Hotels in the Kingdom with 4 students pursuing their Bachelor's in Hospitality in Switzerland.
This has been the result of a partnership between Specific Council for Training in Hospitality, which is now represented by Tamkeen, Hotel & Tourism Management Institute (HTMi) Switzerland and BIHR.
The Diploma was awarded by the top hospitality school in Switzerland - Hotel & Tourism Management Institute (HTMi).
The Swiss HTMi programme at the Bahrain campus offers a wonderful blend of the prestigious Swiss certification as well as BIHR's ethos in imparting skills and qualities essential in the international hospitality industry. Yousif Abdulla Ali, Executive Director, Tamkeen congratulated the students and encouraged them to pursue their passion for culinary and hospitality at the graduation ceremony.
The programme helps young Bahrain nationals in their decision to climb the ladder in hospitality sector.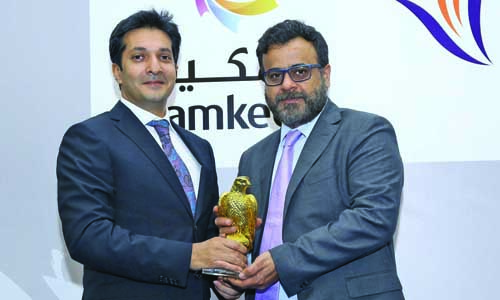 "We are very fortunate to have the endless support of Tamkeen in training our students. This is not only a joyous moment for all our graduates, but also for Tamkeen, our industry partners and the entire BIHR team," said Hatim Dadabai, Managing Director BIHR, speaking at the occasion.
Charles Hains, Academic Director of HTMi Switzerland shared the vision HTMi has in grooming young students into taking professional career paths sharing inspirational examples which has boosted the morale of the students.
Clients who partnered with BIHR to absorb students as interns were Bahrain Airport Services, The Westin, Ritz Carlton, Diplomat Radisson Blu, Four Seasons, ART Rotana, Downtown Rotana, Majestic Arjaan by Rotana, Crowne Plaza, S Hotel, Maya Chocolates, Al Areen, Swiss-Belhotel, Gulf Hotel, Ramada Bahrain, Al Bander Resorts, Movenpick, Sofitel among others.
BIHR has been training and supporting young Bahrainis in the Hospitality, Tourism and Retail sector for over 18 years.
The faculty and staff of BIHR have been committed in meeting the needs of the tourism sector by providing highly trained individuals of managerial competence in the hospitality and retail sector.