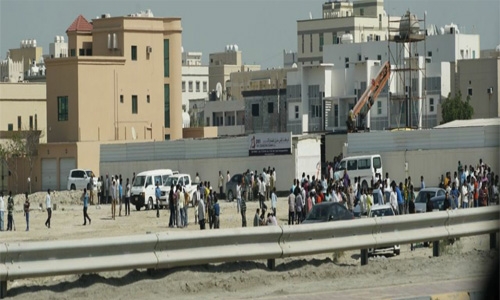 Police stop expatriate workers' march at Sanad
Manama : Workers of a construction company who were marching towards the Ministry of Labour & Social Development demanding unpaid salaries were stopped by the police yesterday.
Protesting over unpaid salaries, the employees marched towards the Ministry premises on Zayed town. But, the men only reached till Sanad as they were stopped by the police. Most of the workers were Indian and Bangladeshi expatriates.
"The employees came from four different labour camps. Some of them were from Riffa, while others were from Eker and Sitra," said a source.
A source from the company told DT News that the delayed payment of salaries have been an ongoing issue for the past one year.
"We have not been getting our salaries on time since last year. Since December, we have not received our salaries at all. The labourers have been hit hard by non-payment of salaries since they have no savings to rely on," he said.
"Although they paid a paltry BD20 for food, many of us are struggling. Many have to depend on credit purchases to meet their expenses and are not able to send money back home," he said.
"The company is struggling because it lost out on some projects and some of its clients have delayed their payments. I have been at this company for the past 35 years and this is the first time it has gotten into such major trouble. More than a decade ago, we had a similar issue but it was sorted out quickly," he added
"We heard that the company has communicated with the embassies and the authorities have agreed on settling the issue," he said.
On Tuesday, around 75 Indian nationals visited the Indian Embassy to plead for help. Reportedly Bangladesh nationals have also sought help from their embassy.