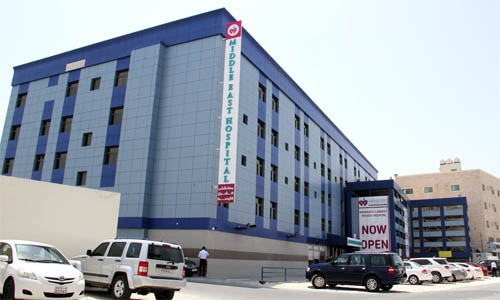 Middle East Hospital opens in Segaya
Manama : VKL Holding and Al Namal Group of Companies yesterday opened Middle East Hospital here in Segaya.
The hospital, located near Bahrain Keraleeya Samajam, has in-patient facilities and operation theatres. It also boasts of highly qualified doctors with various specialisations.
During the inauguration ceremony, VKL Holding Company Chairman and Managing Director Dr. Varghese Kurian said the hospital would provide better treatment at a cheaper rate. The ceremony was attended by several people across the Kingdom.
The authorities have announced a 50 per cent reduction on consultation fee valid till August 15. The hospital provides modern facilities to treat diabetes as well as cardiac and kidney-related issues.
The hospital provides services on a 24-hour basis through its emergency department and inpatient services, while outpatient clinics operate six days a week Sundays through Saturdays inclusive from 8:30am -12:30pm and from 4:30pm to 8:30pm. Operating theatres work on a 24-hour basis for emergency and non-emergency
patients.
Number to consult doctor: 17362233.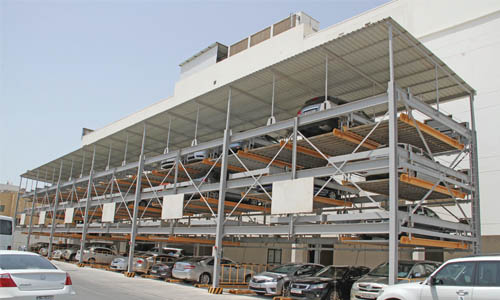 MEH provides highest quality services
The hospital is an 85-bedded acute general facility, and addresses the major medical problems facing the population in Bahrain and the Gulf. In particular, the hospital provides comprehensive care to patients with emphasis on patients with high demand on specialized services, particularly diabetic patients, where the hospital provides control and maintenance of health of diabetic patients, management of diabetic complications from retinal diseases to kidney and vascular complications.
Surgery and its subspecialties is among the major services provided by the hospital. This is aided by the state-of-the-art equipment and top class professionals in the field, supported by modern imaging services, anaesthesia and post-surgical care. Moreover, the hospital provides obstetrics and gynaecology through major delivery suites and neonatal services. Paediatric care is provided through outpatient and inpatient services. Furthermore, the hospital provides Dental and Maxillofacial services, ENT services and soon to commence ophthalmology and endoscopic units.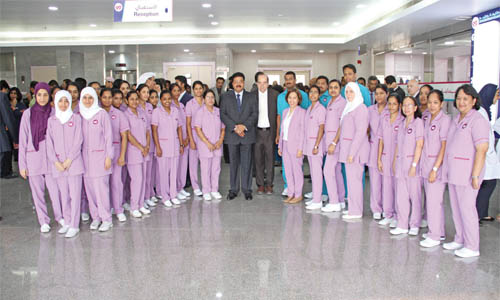 Hospital Clinical Departments:
1.Department of Accident and Emergency – through its 8-bedded unit with separate sections for males and females, in addition to two triage beds and consultation rooms for physicians. The department is ready to handle all types of accidents and emergency medical and surgical situations including but not limited to acute surgical conditions, acute medical conditions, trauma cases and paediatric emergencies. There is a separate section to handle emergency obstetrics and gynaecology emergencies where patients are immediately shifted to the obstetrics department for initial assessment.
2.Department of Internal Medicine – provides inpatient and outpatient services. The department inpatient beds are distributed according to demand on the third floor of the hospital. Subspecialties provided by the department include: Nephrology and renal dialysis; Pulmonology (Chest diseases); Rheumatology; Diabetes Mellitus and gastroenterology.
3.Department of Surgery – provides inpatient and outpatient services. Similar to other departments, the bed distribution follows the demand by the department. In addition to general surgery, the department provide subspecialties services that include neurosurgery, spinal surgery, urology, orthopaedic surgery, cosmetology, andrology (for male erectile dysfunction) and Podiatric services. The department performs its operations in three operating rooms – the largest one is fully shielded for orthopaedic surgery that utilizes ionizing radiation. It also has three-bedded recovery room and an advanced three-bedded post-surgical intensive care unit.
4.Department of Orthopaedic Surgery – Provides inpatient and outpatient services, including both elective and emergency orthopaedic surgery for fractures, arthroscopies and joint replacement surgery.
5.Department of Neuroscience – This department provides highly needed services to inpatient and outpatients, including neurology, neurosurgery and spinal surgery. The department is equipped with state-of-the-art surgical microscope, surgical interventional imaging for spine injuries and fractures, as well as
6.Department of Obstetrics and Gynaecology – provides inpatient and outpatient services. The inpatient services are located in the second floor adjacent to the delivery suites and obstetrics and gynaecology clinics. The department has four dedicated outpatient clinics, special high-definition ultrasound section, two prenatal beds and two delivery suites, in addition to a nursery for newly born and Special Care Baby Unit which provides intensive care to neonates.
7.Department of Paediatrics: Provides inpatient and outpatient services to paediatric patients – those from birth to under 18-year-old. The department operates through three outpatient clinics and five inpatient rooms, which can be increased upon demand. The department complements the services of obstetrics by direct care of newly born babies immediately upon their delivery.
8. Department of Ophthalmology – provides services to patients according to anatomical site – anterior segment and posterior segment of the eye. This classification highlights the level of professionalism of the department, where highly trained consultants manage their selected areas of specialization which is accompanied by highest level of quality outcome and patient safety.
9.Department of ENT – provides inpatient and outpatient services, and is equipped with a sound-proof room for audiometry and state-of-the-art specialized clinic.
10. Dental and Maxillofacial Department – provides outpatient and inpatient services through its four fully equipped dental chairs with wall-mounted X-ray dental machines, in addition to a dedicated panoramic radiology unit. The department has its own dental laboratory for dental prosthetics and dentures as well as dedicated modern sterilization facilities.
11.Department of Anaesthesia: Provides anaesthesia services to all surgical interventions by the department of surgery and its subspecialties, obstetrics and gynaecology, ENT and Ophthalmology.
12. Imaging Department: Provides radiology services in the form of Computerized Axial Tomography (CT Scan), digital radiology, ultrasonography. By September 2016 the department will have an open MRI, and by the end of the year will have Gama camera to provide nuclear medicine – the first such service in a private hospital in the Kingdom.
In addition, support services to the clinical departments are provided through Facility Management and Biomedical Engineering, Physiotherapy. Furthermore, the Information Technology section, maintains the electronic medical records, constitutes a major task for the hospital which is run on a paperless base. The Administration and Hospital Management provide overall support and monitoring of activities of the hospital.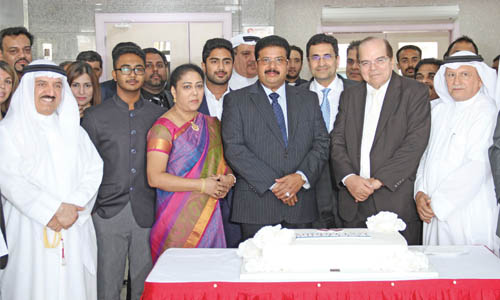 Chairman Dr. Varghese Kurian (centre left) and CEO Dr. Bahaa Fateha (centre right) during the opening ceremony