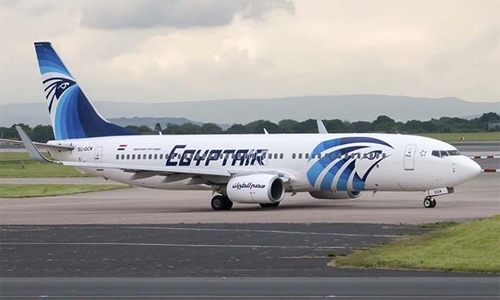 EgyptAir plane crashed off Greek island of Karpathos
An EgyptAir flight from Paris to Cairo has crashed on Thursday morning before entering Egyptian air space, according to the airline.
EgyptAir Flight MS804, an Airbus 320, had 56 passengers, including one child and two infants, and 10 crew.
Helpline: EgyptAir has set up helpline numbers for passengers' relatives. Anyone concerned can call 0800 7777 0000 from any landline in Egypt and +202 259 89320 from any mobile phone or from outside Egypt.
Following are the latest updates (Dubai time):
11.25 am: Egypt army denies detecting distress signal from missing plane. The Egyptian army has denied it detected any "distress messages" from an EgyptAir flight that vanished over the Mediterranean on Thursday, in a statement posted on its spokesman's Facebook page. EgyptAir had said it was informed by the military that it detected a "distress message" from the Airbus A320 which was en route from Paris to Cairo when it disappeared from radar screens.
11.15am: Statement from Airbus: "We are aware of the media reports. At this time we have no further details, but we will provide further information when available."
11.12 am: EgyptAir is not confirming reports that flight MS804 from Paris to Cairo has crashed. AP is reporting that aviation officials have confirmed the flight with 66 passengers and crew on board has crashed and that the search is now focused on finding the debris. "No, we do not have any details concerning a crash," an EgyptAir spokesperson told Gulf News by text message. "We have no details for the time being about any crash," the spokesperson added.
10.50 am: Egyptian aviation officials say the EgyptAir flight from Paris to Cairo with 66 passengers and crew on board has crashed. The officials say the search is now underway for the debris. They say the "possibility that the plane crashed has been confirmed," as the plane hasn't landed in any of the nearby airports. The officials spoke on condition of anonymity because they were not authorized to speak to the press.
10.30 am: The EgyptAir flight 804 sent out a "distress message", according to an AFP report.
10.12 am: Greek air traffic controllers spoke to pilot of missing Egypt Air plane while over Greece, did not report any problems.
10.09 am: EgyptAir list of passengers on board missing flight by nationality: 30 Egyptian, 15 French, 2 Iraqis, and 1 each from UK, Canada, Belgium, Portugal, Kuwait, Saudi Arabia, Sudan, Chad, Algeria.
10.05 am: French Prime Minister Manuel Valls says France is ready to join the search operation if Egyptian authorities request it. Speaking on RTL radio, Valls says the Paris airport authority has opened a crisis center to support the families coming to Charles de Gaulle Airport.
9.55 am: The French government says President Francois Hollande spoke with Egyptian president Abdel-Fattah el-Sissi by telephone, and they agreed to "closely cooperate to establish the circumstances" in which the EgyptAir flight disappeared. The government statement cited Hollande as saying he shares the anxiety of families, in a written statement.
9.49 am: Weather conditions in Egypt and over the Mediterranean were said to be good at the time that Flight MS804 disappeared. Airline experts, interviewed on CNN, said the flight path did not cross any areas of conflict. The flight is now more than 4 hours overdue.
9.32 am: Flight MS802 pilot made no distress call before plane vanished, reports Egyptian state newspaper Al Ahram.
9.28 am: Greece joins search and rescue operation for EgyptAir Flight 804 in southern Meditteranean.
9.15 am: EgyptAir aviation officials believe the missing EgyptAir Flight 804 crashed into the Mediterranean.
8.49 am: EgyptAir flight 804 made no distress call, vice-chairman of EgyptAir holding company Ahmed Abdel tells CNN; says rescue plane has arrived at coordinates of where aircraft lost contact.
8.51 am: EgyptAir official tells CNN the missing plane carried no special cargo and no notification had been made to the captain of dangerous goods on board.
8.44am: Egyptian aviation officials believe the missing EgyptAir Flight 804 crashed into the Mediterranean Sea.
8.15 am: The nationalities of the passengers on the missing plane are reported to be mostly Egyptians, with one Saudi, Iraqi, British and French.
7.46 am: Egyptair has confirmed the flight was carrying 56 passengers, including one child and two infants, and 10 crew. Earlier, the airline said Airbus A320 Flight MS804 was carrying 59 passengers and 10 crew.
"An official source at EGYPTAIR stated that Flight no MS804, which departed Paris at 23:09 (CEST), heading to Cairo has disappeared from radar," the airline said on its Twitter account.
A later Tweet by EgyptAir said the plane, which was travelling at an altitude of 37,000 feet (11,280 metres), disappeared about 80 miles (130 km) before it was due to enter Egyptian airspace.
According to EgyptAir tweets three security personnel were on board. The pilot had 6,000 flight hours.
The flight from Paris Charles de Gaulle to Cairo normally takes just over four hours and the plane was due to arrive at 3:05 am local time (5:05 am Dubai time).
According to a Reuter's report, Egypt's civil aviation ministry said search and rescue teams were looking for the missing jet. A ministry source also said technical information about the condition of the plane was being gathered.
Authorities at Charles de Gaulle airport in Paris have not yet commented.
7.28am: EgyptAir flight from Paris to Cairo has "disappeared from radar" Thursday morning, according to the airline.
Flightradar24.com, which tracks flights, the plane was an Airbus A320 and its last known position was above the Mediterranean Sea.