Cabinet approves list of 68 organisations classified as terrorist groups
Manama : The Cabinet yesterday approved a list of 68 organisations classified as terrorist groups by the Kingdom of Bahrain. The list includes the regionally and internationally classified terror organisations, as well as local ones previously approved by the Cabinet.
Lebanon's Hezbollah movement, already branded as "terrorist" by the Gulf Cooperation Council (GCC) and the Arab League, topped the list approved by the Cabinet.
The Cabinet session, chaired by Prime Minister HRH Prince Khalifa bin Salman Al Khalifa, was also attended by Crown Prince, Deputy Supreme Commander and First Deputy Prime Minister HRH Prince Salman bin Hamad Al Khalifa.
Also on the list was Al Qaeda and its branches in Yemen and North Africa, as well as Al Nusra Front in Syria and the Islamic State group (IS).
Nigeria's Boko Haram, Egypt's Islamic Jihad and Al Murabitoun in Mali are also on the list.
Also included are the little-known Al Ashtar Brigades and Resistance Brigades, as well as the clandestine February 14 Coalition.
A similar list already issued by the United Arab Emirates includes 83 groups. Bahrain, Saudi Arabia and the UAE are all partners in the US-led coalition that is bombing IS militants in Syria and Iraq.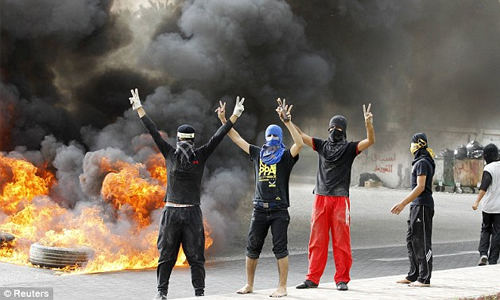 List of terror groups
1. Hezbollah
2. Ansar Al Islam/ Al Qaeda Kurdish Battalions
3. Islamic State of Iraq and Levant (Daesh)
4. Al Qa'ida in the Arabian Peninsula
5. Al Nusrah Front (Syria)
6. Abu Sayyaf Group (Philippines)
7. Harakat Ul Mujahideen (Pakistan)
8. Al Qaeda
9. Islamic Movement of Uzbekistan (Pakistan)
10. Jaish-e-Mohammed (Pakistan)
11. Lashkar-e Tayyiba (Pakistan)
12. Osbat Al Ansar (Lebanon)
13. Al Qaeda in the Islamic Maghreb (North Africa)
14. Tehrik-e Taliban Pakistan/ Pakistani Taliban (Pakistan)
15. Abdallah Azzam Brigades (Lebanon)
16. Ansar al-Dine (Mali)
17. Boko Haram (Nigeria)
18. Ansar al-Shari'a in Benghazi (Libya)
19. Ansar Al Shari'a in Darnah (Libya)
20. Jemaah Islamiya (Indonesia)
21. Lashkar i Jhangvi (Pakistan)
22. Harakat ul-Jihad-I Islami (Pakistan/ Bangladesh)
23. Jemaah Anshorut Tauhid (Indonesia)
24. Jamaat Ansaru Al Muslimin fi Bilad Al Sudan (Nigeria)
25. Al-Mulathamun Battalion (Algeria)
26. Ansar Al-Sharia in Tunisia (Tunisia)
27. Al Mourabitoon (Mali)
28. Armed Islamic Group (Algeria)
29. Jamaat Houmat Al Daawa Al Salafiya
30. East Turkistan Islamic Party (Western China)
31. Egyptian Islamic Jihad (Egypt)
32. Caucasus Emirate (Russia)
33. Global Relief Foundation (USA)
34. Harakat Sham Al Islam – Syrian Islamic Movement (Syria)
35. Hilal Ahmar Society Indonesia (Humanitarian wing of Jemaah Islamiya)
36. Aden-Abyan Islamic Army
37. Islamic International Brigade (Russia)
38. Islamic Jihad Group (Associated with Emarat Kavkaz, Islamic Movement of Uzbekistan)
39. Jamaatu Ahl Al Sunna Liddawati Wal-Jihad (Organization of Al Qaeda in the Islamic Maghreb)
40. Jund Al-Khilafa (Algeria)
41. Libyan Islamic Fighting Group (Libya)
42. Maktab Al-Khidamat (Afghanistan)
43. Moroccan Islamic Combatant Group
44. Muhammad Jamal Network (Egypt)
45. Mujahidin Indonesian Timur (Indonesia)
46. Movement pour l'Unification et le Jihad en Afrique de l'Ouest (MUJAO) Associated with Al Qaeda in Islamic Maghreb.
47. Rajah Solaiman Movement (Philippines)
48. Revival of Islamic Heritage Society (Afghanistan & Pakistan branches)
49. Riyad-us Saliheen Brigade of Martyrs (Russia)
50. Special Purpose Islamic Regiment (Russia)
51. Army of Emigrants and Supporters (Syria)
52. Tunisian Combatant Group (Tunisia)
53. Ummah Tameer-e-Nau (Pakistan)
54. Wafa Humanitatian Organization (Afghanistan)
55. Al Itihaad Al Islamiya (Somalia)
56. Al Akhtar Trust International
57. Al Haramain Islamic Foundation (Saudi Arabia)
58. Afghan Support Committee (Afghanistan)
59. Al Mouakone Bil Dam (Mali)
60. Al Furqan (Bosnia)
61. Al Rashid Trust (Pakistan)
62. Benevolence International Foundation
63. Jam'yah Ta'awun Al Islamia/ Islamic Society Cooperation (Afghanistan)
64. Rabita Trust (Pakistan)
65. Taibah International Offices (Bosnia)
66. Coalition of February 14th Youth (Bahrain)
67. Saraya Al-Ashtar (Bahrain)
68. Saraya Al Muqawama Al Sha'biya (Bahrain)