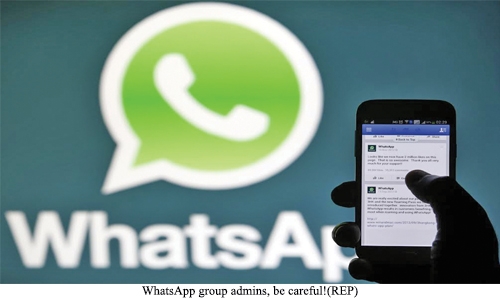 WhatsApp group admins, be careful!
Manama : If you are WhatsApp group admin, better be careful as group admins are legally responsible for the contents being circulated through the application's chat rooms that they are managing, security officials in the Kingdom announced.
"They are responsible and would be held legally accountable for allowing false information to be circulated within the groups they are in charge of," an official said.
If found guilty, one will have to pay fines of up to BD200 or spend two years in jail.
While speaking at a special show held to discuss the impacts of social media on families, First Lieutenant Hayat Abdulmajeed called upon members of WhatsApp chat groups to report people who use the cyber rooms to defame and insult someone or to spread false information and news.
The officer at Interior Ministry's Anti-corruption and Economic and Electronic Directorate said the complaints should be filed directly to the directorate.
According to the Ministry's Police Media Directorate, spreading false information is a crime that is classified as per their physical and moral impacts. The first category (physical) includes spreading false news with the intention of reaching out to the largest number of people using any mean, in order to harm public interest, destabilise public security and spread fear among people. As for the moral side of the crime, it includes acknowledging that the information is false, falsifying it or improvising it while being aware of its negative effects on the society.
Article 168 of the Kingdom's Penal Code stipulates that jail terms of no more than two years, fines of no more than BD200 or both should be the punishment of persons who spread false news, data or rumours that disturb public security, scare the public or harm public interest.
Similar legal procedures against WhatsApp group admins have been adopted in fellow GCC countries such as Saudi Arabia and Kuwait . This comes within the efforts to cope with the rapidly advancing technologies and development of communications.