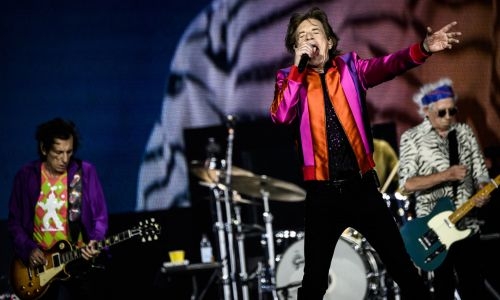 Rolling Stones set to launch new album
AFP | London
The Daily Tribune – www.newsofbahrain.com
The Rolling Stones will on Wednesday reveal details of "Hackney Diamonds", the band's first studio album of new music since 2005, at a launch event in east London.
It is the English group's first album since drummer Charlie Watts' death, and the first containing original material since 2005's "A Bigger Bang".
Hackney Diamonds is English slang for the shards of glass left scattered on the ground after smash-and-grab robberies, and refers to the historically working class east London neighbourhood.
US talk show host Jimmy Fallon will host the launch event at the Hackney Empire theatre, where he will talk to band members Mick Jagger, 80, Keith Richards, 79, and Ronnie Wood, 76.
It will be the band's first studio album since 2016's "Blue & Lonesome", which was made up of blues covers.
The band have already teased the release through a spoof advert in the local Hackney Gazette newspaper.
The cryptic ad, which also appeared in sister title the Islington Gazette, referenced several of the band's best-known songs including "(I Can't Get No) Satisfaction", "Gimme Shelter" and "Shattered".
The ad went on: "Opening our new store on Mare Street, September 2023. Our friendly team promises you satisfaction when you say gimme shelter we'll fix your shattered windows."
Clues that the ad was not for a bona fide east London glass repair business included a miniature version of the band's famed lips logo to dot the letter i.
The ad -- in the same font as the Stones' 1978 album "Some Girls" -- also says the firm was established in 1962, the same year the band was formed.
A website also links to the Stones' record label Universal Music Group, which handles the band's catalogue.
Wednesday's event, scheduled for 2:30pm (1330 GMT) will be livestreamed on YouTube.
"Hackney may be at the heart of Hackney Diamonds, but this is a truly global moment we want to share with fans around the world via YouTube," said the band.
Last year the Stones travelled through Europe for their 60th anniversary tour which featured stops in cities including Madrid, Milan and Munich, and also a performance at British Summer Time (BST) festival in London.
They were joined on tour by Steve Jordan on drums, following the 2021 death of Watts.