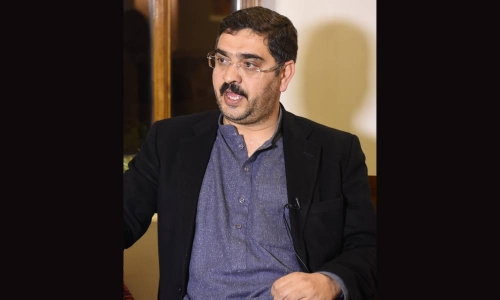 Little-known senator Kakar to be sworn in as new Pakistan PM
AFP | Islamabad
The Daily Tribune – www.newsofbahrain.com
Little-known senator Anwaar-ul-Haq Kakar was set to be sworn in Monday as Pakistan's caretaker prime minister to see the country through to an election due in months.
Kakar, 52, takes charge of a country that has been wracked by political and economic instability for months, with Imran Khan -- Pakistan's most popular politician -- in jail and disqualified from elections for five years.
He will be sworn in on the country's Independence Day on Monday afternoon in a ceremony carried live on TV.
"I have confidence in the caretaker prime minister's ability to conduct free and fair elections," outgoing premier Shehbaz Sharif said in a farewell address to the nation late Sunday.
Kakar's first task will be to choose a cabinet to run the country as it heads into an election period that could last for months.
Parliament was officially dissolved last week, with elections due within 90 days according to the constitution.
But data from the latest census was finally published earlier this month, and the outgoing government said the election commission needed time to redraw constituency boundaries.
There has been speculation for months that a vote would be delayed as the establishment struggles to stabilise a country facing overlapping security, economic and political crises.
The country has been in political turmoil since Khan was dismissed as premier by a no-confidence vote in April 2022, culminating in him being jailed last weekend for three years for graft.
He has been disqualified from standing for office for five years, but is appealing against his sentence and conviction.
- Cracked down -
Authorities have cracked down hard against Khan's Pakistan Tehreek-e-Insaf (PTI) party in recent months, crushing his grassroots power by rounding up thousands of his supporters and officials.
Political analyst Hasan Askari Rizvi told AFP at the weekend that Kakar "has a limited political career and not much weight in Pakistani politics", but that could work in his favour.
"This can be an advantage because he has no strong affiliation with the major political parties," he said.
"But the disadvantage is that being a lightweight politician, he may find it difficult to cope with the problems he's going to face without the active support of the military establishment."
Fellow analyst Ayesha Siddiqa noted Kakar had done courses at the National Defence University -- formerly the military's war college -- and said he would be close to the establishment.
"It seems that the establishment has struck and they have found somebody who will be watching over their interests rather than that of politicians," she said.
Last month parliament rushed through legislation that gives the caretaker government more power to negotiate with global bodies such as the International Monetary Fund, another clue it may be around for a while.
Some analysts think the delay could give time for the main coalition partners -- the Pakistan Muslim League-Nawaz (PML-N) and Pakistan Peoples Party (PPP) -- to figure out how to address the challenge of Khan's PTI.
"But in reality, delaying the election could simply anger the public more and galvanise an opposition that has already suffered through months of crackdowns," said Michael Kugelman, director of the South Asia Institute at the Wilson Center.
The United States said last week it was watching with concern the prospect of election violence.
Behind any election in Pakistan lurks the military, which has staged at least three successful coups since the country was forged from the partition of India in 1947.
Khan enjoyed genuine widespread support when he came to power in 2018, but analysts say it was only with the blessing of the country's powerful generals -- with whom he reportedly fell out in the months before his ousting.