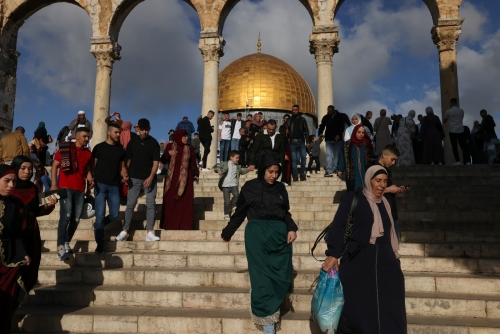 Israel holds Cabinet meeting in tunnels dug under Al Aqsa
Agencies | Ramallah
The Daily Tribune – www.newsofbahrain.com
Palestinians are outraged by the Israeli government's move to hold a weekly Cabinet meeting on May 21 inside the tunnels it has dug under Al Aqsa Mosque.
Yesterday, Palestinian Prime Minister Mohammad Shtayyeh called on UNESCO to take note of the Israeli excavations in East Jerusalem.
For decades, Israel has been excavating under Al Aqsa as part of a vague, historically motivated search for "Solomon's Temple" in an attempt to justify the occupation through archaeology.
However, after years of digging, the Israelis, who claim they can trace their heritage to the land of Palestine, have found nothing linking their history to Al Aqsa region.
Palestinians fear that digging tunnels will expose Al Aqsa to the threat of collapse in the event of a slight earthquake. Ibrahim Melhem, the spokesman for the Palestinian government, said that the Cabinet meeting under Al Aqsa "does not give Israel legitimacy to control and own the mosque or East Jerusalem."
Melhem said the Palestinian government asked Unesco to send experts and delegates to examine the dangers threatening the mosque.