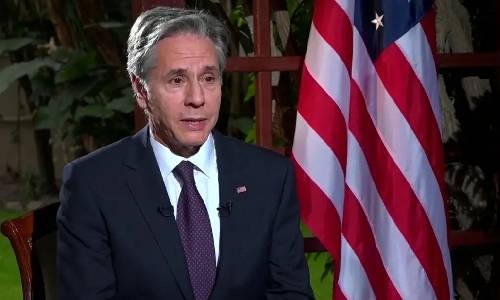 US keen to revive Iran nuclear talks
Agencies | Cairo
The Daily Tribune – www.newsofbahrain.com
US Secretary of State Anthony Blinken said yesterday that Iran has rejected the current proposal to return to the nuclear agreement, adding that Washington still believes that diplomacy is the most effective way to deal with the Iranian nuclear file.
He stressed that all options are available on the table to prevent Iran from obtaining a nuclear weapon.
The official pointed out that Washington has punished all those responsible for repression in Iran, stressing that his country continues to search for ways to disrupt Iran's malign activities.
Blinken also said that the main goal of US military efforts, specifically the US military exercises with Israel, was to deter aggressors. He said that Iranian youth are defending their basic rights in the face of Tehran's regime, adding that US focus now is on the Iranian regime's suppression of its people in the streets.
Blinken highlighted US support to Iranian people, stressing that the decision of "regime change" remains ultimately up to the people. He added: "The Iranian regime is convincing its people of the idea that the US wants regime change."
In addition, he stressed that Iran supports Russia in its war against Ukraine and provides it with drones and other weapons, expressing his concern about Tehran providing Moscow with drones and missiles.
Reduce tensions
He announced that he would hold talks with the Israelis and Palestinians to reduce the escalating tensions. As for the Saudi-American ties, Blinken said that the relations between his country and the Kingdom have been important and ongoing for decades, noting that Saudi Arabia has provided great support to Ukraine in the face of the Russian war.
He said that Saudi Arabia voted against the Russian war in Ukraine before the UN General Assembly, stressing the need for relations with Saudi Arabia to reflect common interests and values. Blinken also said: "We were worried about the OPEC+ decision to cut oil production."
He reaffirmed that Washington is working with Riyadh to end the war in Yemen. Blinken will meet with Israeli Prime Minister Benjamin Netanyahu and Palestinian leader Mahmud Abbas and call "broadly for steps to be taken to de-escalate tensions", State Department spokesman Vedant Patel said as he condemned the "horrific" synagogue attack.
The violence is also likely to figure in talks between Blinken and Egyptian President Abdel Fattah Al Sisi, whose country's traditional role as a Middle East mediator has helped him remain a key US partner. Blinken is expected on his trip to reiterate US support for a Palestinian state, a prospect few expect to advance under the new Israeli government.