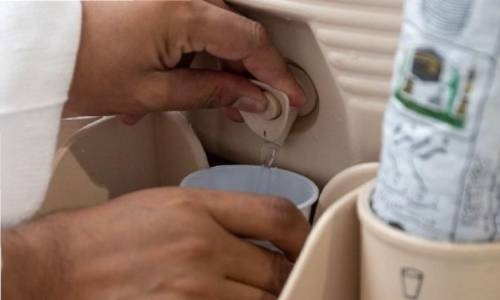 Makkah Grand Mosque resumes providing Zamzam water through more containers, tanks
Agencies | Makkah
The Daily Tribune – www.newsofbahrain.com
The General Presidency for the Affairs of the Two Holy Mosques has resumed providing Zamzam water through 155 marble tanks and 20,000 containers in the Grand Mosque.
The provision of the water was suspended during the Coronavirus pandemic, Saudi Press Agency (SPA) reports.
The decision to allow people to get the water was taken following the high number of vaccinations and the commitment of the worshippers to the precautionary health measures.
The water dispensers and containers are placed in various places of the Grand Mosque to allow easy access to the worshippers.
According to presidency officials, the average daily consumption of Zamzam water in the Grand Mosque is 1,633,030 cubic meters.
They added that 126 people are employed in shifts by the Zamzam Water Department to monitor the drinking spots to ensure full availability of the water, the cleanliness of the water containers and tanks at all times and readiness to assist people with special needs seeking Zamzam water.