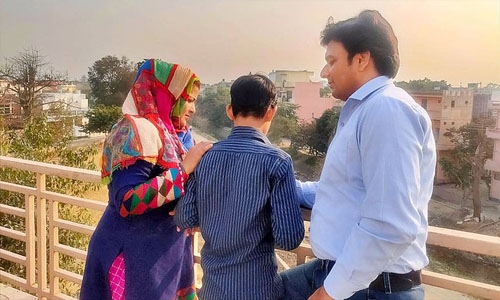 Indian mother in last-ditch plea to avoid death penalty
Agencies | New Delhi
The Daily Tribune – www.newsofbahrain.com
A 38-year-old death row prisoner facing execution in India has appealed for mercy and a review of her case in a last-ditch effort to avoid becoming only the second woman to be hanged in the country in the past 74 years.
Shabnam Ali has been held in northern India's Mathura jail for the past 11 years after she, along with her lover Saleem, was convicted of killing seven family members, including her parents, two brothers and a 10-month-old nephew.
However, for the first time since 2008, Ali is claiming that she was not involved in the murders.
"When we met Shabnam on Sunday, she told me that she is not the killer and there should be a proper investigation of the case," Usman Saifi, a friend from college and the adoptive parent of her 12-year-old son Taj Mohammad, told Arab News.
"This is the first time Shabnam has spoken about the case. When I asked her about it in 2008, she kept silent," he added.
Ali was convicted by a district court in Amroha, in the northern Indian state of Uttar Pradesh, in 2010.
In 2015 and 2020, the Supreme Court upheld her death sentence, while her petition for mercy — which she had applied for on the grounds of being a mother to a young child — was rejected in 2016 by the-then Indian president, the late Pranab Mukherjee.
Ali, a postgraduate in geography and English, was a school teacher in her native village of Bawankhedi in Amroha at the time of the killings.
According to the case files, Ali's family had opposed her relationship with Saleem, a local carpenter, leading to the murders in 2008.
Ali was pregnant at the time, with her son, Taj, who was born in jail in 2010.
He remained with his mother till 2016, when he turned six. The jail manual does not allow a child to live with their mother beyond six years of age.
When no one responded to an adoption notice by jail authorities, Saifi and his wife, Vandana Singh, took custody of Taj in 2016. He will remain with the couple until he is 18, after which he can decide whether he wants to live with his adoptive parents.