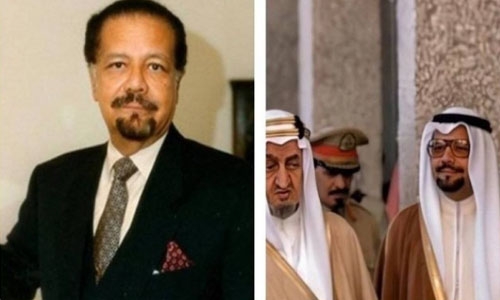 Longest serving Saudi oil minister Ahmed Zaki Yamani dies at 91
Agencies | Jeddah
The Daily Tribune – www.newsofbahrain.com
Saudi Arabia's longest-serving former Minister of Petroleum and Mineral Resources Sheikh Ahmed Zaki Yamani died in London on Tuesday. He was 91. Yamani's body will be buried in Al-Mualla Cemetery after the funeral prayer at the Grand Mosque in Makkah.

Yamani was born in Makkah in 1930. His father and grandfather were religious teachers and Islamic lawyers. He studied law at Cairo University and graduated from Harvard University. He also studied at New York University. Later, he served as a legal adviser to the Council of Ministers, minister of state, and member of the Cabinet in 1960.

Yamani became oil minister in 1962 and led the ministry until 1986. He helped Saudi Arabia command a dominating presence in the Organization of the Petroleum Exporting Countries (OPEC) from its birth. Yamani was the first Saudi representative on OPEC's Board of Governors in 1961.

He played a crucial role in the nascent oil industry in which the Kingdom remains a heavyweight even today and its decisions ripple through the oil industry, affecting prices from the barrel down to the gasoline pump. He was the first secretary-general of OPEC, and founder and president of the Center for Global Energy Studies.

In December 1975, Yamani found himself among those taken hostage at OPEC headquarters in Vienna. He was kidnapped by the infamous terrorist Carlos, nicknamed "the Fox", during an OPEC meeting. The attack ended up seeing all the pro-Palestinian militants and those held hostages released. Afterwards, Yamani described Carlos, a Venezuelan whose real name is Ilich Ramirez Sanchez, as a "ruthless terrorist who operates with cold-blooded, surgical precision."

Yamani also oversaw what would become the full nationalization of the Arabian American Oil Company after the 1973 oil crisis, and the company, which is at present known as the Saudi Arabian Oil Company or Saudi Aramco, is a major employer for the Kingdom and its main source of revenue.