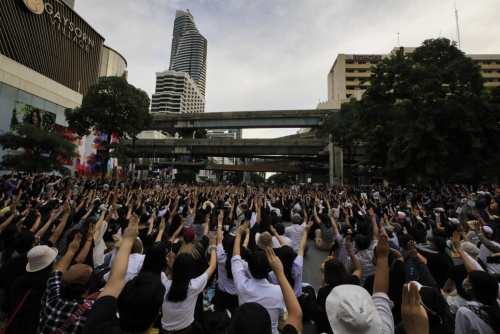 Thai protesters defy emergency with new rally in central Bangkok
BANGKOK
Hundreds of anti-government protesters staged a rally for a second straight day in Thailand's capital, defying a state of emergency declared by Prime Minister Prayuth Chan-Ocha to quell escalating demonstrations in support of monarchy reform and greater democracy.
Protesters shouting "Prayuth get out" gathered at Ratchaprasong intersection in the middle of Bangkok's main shopping district and pushed police barricades, demanding the release of leaders arrested by the police in a morning raid. The location, in front of the Central World shopping mall, was the site of demonstrations in 2010 that ended with a clearance operation in which scores of people were killed.
The fresh demonstration comes a day after tens of thousands of protesters broke through police lines in a march to Government House, Mr. Ocha 's office, in an escalation of demonstrations that began in early July. Some protesters gave a three-finger salute - a symbol of the demonstrations - to a motorcade of Queen Suthida Bajrasudhabimalalakshana, who smiled and waved at them.
Those arrested included Arnon Nampa and Parit Chiwarak, according to the Thai Lawyers for Human Rights. Mr. Chiwarak had
written a statement calling for reform of the monarchy with 10 demands, including prohibiting the king from endorsing any coups and revoking laws that criminalise insults against King Maha Vajiralongkorn and top members of the royal family.