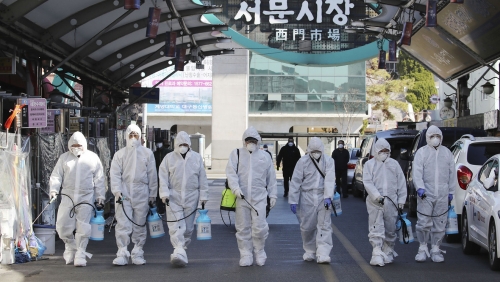 South Korea new virus cases bounce back
Seoul
South Korea's new coronavirus cases rose to the triple digits Wednesday for the first time in five days, deepening health officials' woes over the spread of COVID-19 during the country's major holiday Chuseok.
The country added 113 more COVID-19 cases, including 93 local infections, bringing the total to 23,812, according to the Korea Disease Control and Prevention Agency (KDCA), according to South Korean News Agency (Yonhap).
The daily new cases are the highest since Sept. 25 when the country reported 114.
Daily new local infections also stayed in the double digits for the sixth straight day after the country reported 95 on Friday, 49 on Saturday, 73 on Sunday, 40 on Monday, and 38 on Tuesday, the KDCA said.
The sharp rise in new virus cases strained health authorities before the Chuseok holiday, which runs from Wednesday to Sunday.
During the autumn harvest celebration, tens of millions of people are expected to travel across the country to meet their families.
Health authorities advised people not to travel via text messages, encouraging them to communicate with their loved ones via telephone and video chat applications
Before a meeting to discuss ways to stop the spread of COVID-19, Health Minister Park Neung-hoo said, "The spread of the virus depends on how people spend the Chuseok holiday," calling for people's active participation in the virus prevention campaign.
He also called on people to visit uncrowded parks with their families instead of traveling to their hometowns during the holiday.
The local court also rejected any type of rallies during the holiday to prevent the widespread of COVID-19.
Seoul Metro said it would interrupt its subway services at six stations near the Gwanghwamun gate in downtown Seoul if rallies were to take place on National Foundation Day on Saturday.
The six stations are Line 1 Jonggak, Lines 1 and 2 City Hall, Line 3 Gyeongbokgung, Line 3 Anguk, and Line 5 Gwanghwamun.
Health officials unveiled more tailored guidelines last week under the Level 2 distancing in the country's three-tier scheme.
At the current level, indoor gatherings of 50 or more people are banned, and outdoor meetings of 100 or more people are also prohibited.
Sports events are allowed without spectators.
By region, Seoul added 51 new virus cases, and nearby Gyeonggi Province had 21 new patients, according to the KDCA.
Twenty-eight people staying in a mental hospital in Dongbong Ward, northern Seoul, have been confirmed to be infected with the coronavirus.
Health authorities put the whole hospital under cohort isolation.
The country also reported 20 new imported cases, up from 15 a day earlier, the KDCA said.
South Korea reported six additional deaths, raising the death toll to 413. The fatality rate was 1.73 percent.
The total number of people released from quarantine after making full recoveries stood at 21,590, up 120 from the previous day.