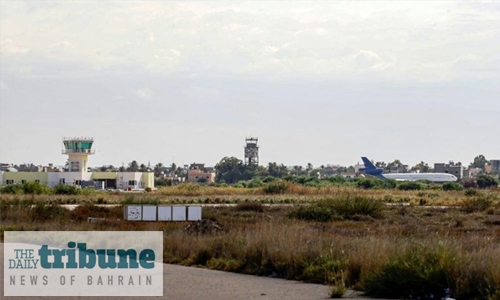 Rockets jolt Tripoli ahead of peace talks
The Libyan capital's only operational airport has closed again after threats by forces loyal to strongman Khalifa Haftar, dealing another setback to peace efforts as regional foreign ministers prepare to meet in Algeria yesterday.
The airport has been hit multiple times since the start of a months-long offensive by fighters led by eastern-based commander Haftar to seize Tripoli from the UN-recognised Government of National Accord (GNA). Mitiga airport authorities said late Wednesday they were suspending air traffic "until further notice" after Haftar's spokesman threatened to attack planes flying over the city.
"Any military or civilian aircraft, regardless of its affiliation, flying over the capital will be destroyed," warned Haftar's spokesman Ahmad al-Mesmari, adding that such flights would be considered a violation of a ceasefire in place since January 12.
Mesmari said the internationally-backed government was using the airport for military purposes as a base for Turkish soldiers sent by Ankara to support GNA leader Fayez al-Sarraj.
The airport earlier Wednesday suspended flights for several hours after it was targeted by six Grad rockets in an offensive the GNA blamed on its rivals in Libya's five-year civil war. The attack took place just nine days after the facility reopened following a truce.
World powers have stepped up efforts in recent weeks to find a political solution to the grinding conflict, with neighbouring Algeria the latest country to host a meeting -- set for Thursday -- to discuss ways forward.
The Algerian foreign ministry said chief diplomats from Tunisia, Egypt, Sudan, Chad, Niger and Mali would meet in Algiers to advance "a political settlement to the crisis through an inclusive dialogue between all parties".