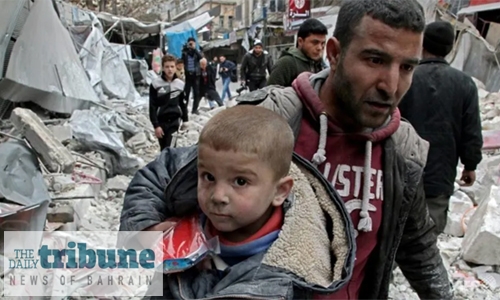 Dozens killed as Damascus presses Idlib offensive
Dozens of fighters and civilians were killed in Syria's Idlib province as the government pressed a deadly offensive yesterday towards a key town in the country's last rebel bastion.
The latest violence, which followed air strikes that killed 19 civilians on Wednesday, buried a ceasefire deal announced by Russia and rebel backer Turkey that never really took hold.
"Clashes broke out around midnight on Wednesday south of the city of Maaret al-Numan, together with heavy bombardment despite the Russian-Turkish truce," Rami Abdel Rahman, head of the Syrian Observatory for Human Rights, said.
According to the Britain-based war monitor, the fighting raged in areas south of Maaret al-Numan, the key target of the Syrian government's latest military offensive.
At least 26 anti-government fighters were killed, most of them members of Hayat Tahrir al-Sham, a group that includes fighters from the former Al-Qaeda affiliate in Syria. The Observatory said 29 government troops and allied militia were also killed in the fighting.
The Syrian state news agency SANA later reported that at least four civilians were killed by rocket fire on the city of Aleppo. Jihadist and rebel groups are present west of northern city, on which hey routinely launch rocket attacks.