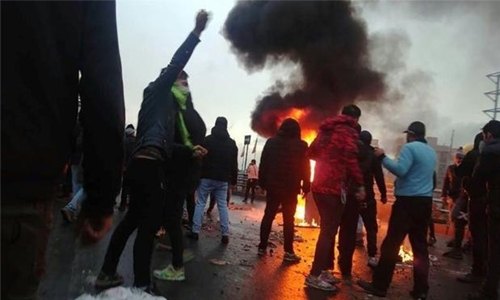 Hundreds arrested in Iran crackdown
Iran's supreme leader yesterday threw his support behind a decision to hike petrol prices, a move that sparked nationwide unrest in which he said "some lost their lives."
A policeman was killed in the western city of Kermanhshah in a clash with armed "rioters", the second confirmed death since protests erupted across Iran on Friday. Ayatollah Ali Khamenei blamed "hooligans" for damaging property despite widespread anger at the increases and as Iranians suffer from the country's economic woes.
Several people were also wounded and dozens arrested in two days of demonstrations that saw motorists block highways and others attack and set fire to public property. In a speech aired on state television, Khamenei said "some lost their lives and some centres were damaged".
The White House on Sunday condemned Iran for using "lethal force" against the demonstrators. "The United States supports the Iranian people in their peaceful protests against the regime that is supposed to lead them," White House press secretary Stephanie Grisham said.