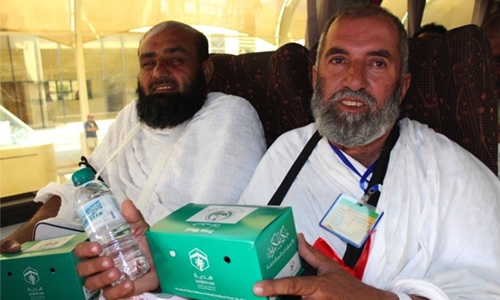 327m meals, bottles of water distributed
More than 327 million ready meals and bottles of water have been distributed among the pilgrims over eight days since they started arriving in Makkah, Madinah and the holy sites for the Hajj. The Ministry of Commerce and Investment has been supervising the supplies which consisted of 225 million bottles of water, 67 million pieces of bread and pastries, 28 million containers of soft drinks, juices and milk, 5.5 million ready meals and 1.8 million ice slabs, Saudi Gazette reported.
The ministry's employees have been supervising the entry of the supplies on large trucks loaded with foodstuffs. They have been also supervising the movement of the food trucks inside the holy sites. The supervisors have been conducting daily tours on the shops and bakeries around the clock to make sure that there are enough supplies. They have been checking the shops and mobile trucks to ensure the validity and good quality of the supplies.
They are also controlling the prices to prevent any violations. In another development, the Saudi Ministry of Islamic Affairs is offering a free hotline to answer all questions related to pilgrimage rituals on the contact number 8002451000. The service covers eight languages, including Arabic, English, French, Urdu, Turkish and Indonesian. Pilgrims can choose to listen to electronic messages about the rites of Hajj and Umrah, general messages from the ministry and rulings from the permanent committee of religious researchers.
Moreover, they can speak directly to one of the ministry's Islamic guidance representatives, who are available 24 hours a day. The team is made up of dozens of religious preachers who will provide information on Hajj procedures and answer all queries. The ministry has offered this service for six years in a row. When it first started, the hotline only provided 8 hours of contact time. The average number of calls per day exceeded 1,030 during last year's Hajj.