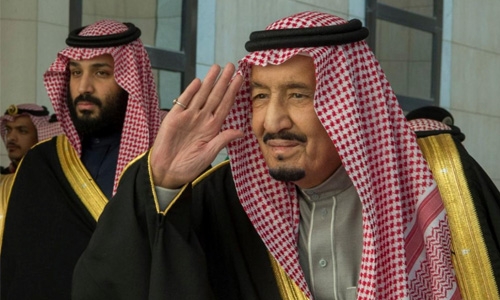 Saudi Arabia deficit narrows
Dubai : Saudi Arabia is preparing for the biggest budget in its history, announcing record expenditures of 978 billion riyals ($261bn) this coming fiscal year as the government forecasts a boost in revenue from the introduction of a sales tax, plans to further reduce subsidies and a modest rise in oil prices.
The Arab world's largest economy and one of the world's top oil producers was hit by a drop in oil prices more than three years ago, but austerity measures have helped ease the blow.
Revenue is expected to reach 783bn riyals ($209bn), with oil revenue making up the bulk of that at 63 per cent and non-oil revenue comprising the remaining 37 pc. Revenue for this past year reached 696bn riyals ($186bn).
The government said the budget deficit this past year was 230bn riyals ($61bn) — a steady decline from 297bn riyals ($79bn) in 2016 and 367bn riyals ($98bn) 2015.
The government projects a budget deficit in the coming year of even less at 195bn riyals ($52bn).
Saudi Arabia, meanwhile, continues to spend heavily on its nearly three-year-long war in Yemen and on acquiring weapons and beefing up its military.
In a speech broadcast live on state TV, King Salman said the government plans to have a balanced budget by 2023, forecasting another five years of deficit.
The kingdom had initially planned to have a balanced budget sooner, but the International Monetary Fund cautioned that the pace of fiscal consolidation was moving too rapidly to give households and businesses more time to adjust.
To help ease the burden of planned subsidy cuts next year on electricity, fuel and gas, the government is preparing to distribute cash assistance to low-income families as part of a new welfare system.
More than 3.7 million families have applied for assistance in the so-called "Citizen's Account", representing more than 13 million people — or more than half the Saudi population, though not all will qualify for support.
The first payments will be made Dec. 21 before next year's subsidy cuts and the introduction Jan. 1 of a 5 pc value-added tax on most goods, like food, and services. The kingdom has already put in place a sin tax on tobacco, soft drinks and energy drinks, and lifted some energy subsidies in late 2015.
The king said in his speech before the Cabinet on Tuesday when announcing the budget that it includes allocations for housing and funds "to push the economic wheel forward, and provide more employment opportunities for male and female citizens."
Unemployment in Saudi Arabia rose this year to 12.8 pc. Government statistics show that women make up the overwhelming majority of job seekers in Saudi Arabia. Also, around 34 pc of Saudis seeking employment are between 25 and 29 years old. That number is expected to grow with half the population under 25.
The kingdom is also urgently trying to attract more international investment and buoy the private sector to create millions of jobs in the coming years.