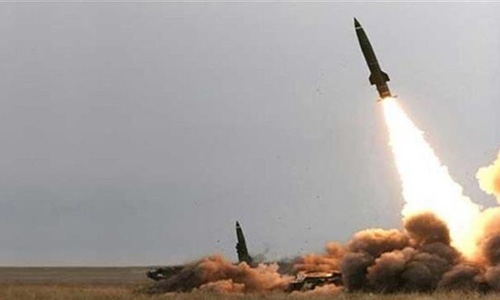 Missile fired at Riyadh destroyed
Riyadh : Saudi air defences successfully intercepted a ballistic missile fired towards the capital Riyadh yesterday, the Saudi-led coalition said, the latest attack by the Iran-backed Houthi militia.
There was no immediate report of casualties or damages. The Iran-backed Houthi militia said the missile targeted the royal court at Al Yamama palace, where a meeting of Saudi leaders was under way, describing the attack as a new chapter in the conflict.
The Saudi-led coalition said the missile was directed at residential areas and there were no damages, the Saudi state news agency SPA reported.
Quoting a statement from the coalition, SPA said Iranian-made missiles were a threat to regional and international security, and accused the Houthis of using humanitarian entry points to import missiles from Iran.
"Coalition forces confirm intercepting an Iranian-Houthi missile targeting south of Riyadh. There are no reported casualties at this time," the government-run Center for International Communication wrote on Twitter. Saudi palaces, military and oil facilities are within range of such missiles fired from Yemen, the Houthis said, according to a statement distributed via their television channel al-Masirah.
Air strikes
The United Arab Emirates, underscored the need to keep the military campaign in Yemen going.
"With every Iranian missile fired by the Houthi militia against civilian targets, the necessity of (Operation) Decisive Storm becomes clear," United Arab Emirates minister of state for foreign affairs, Anwar Gargash, wrote on his Twitter account.
Tuesday's attack took place hours before Saudi Arabia was due to announce the country's annual budget in a news conference expected to be attended by senior ministers.
A blast, then smoke
Houthi missiles are often modified by reducing payloads and rarely hit their targets. Reuters witnesses described hearing a blast and said they saw smoke in the north-east of Riyadh.
Saudi Arabia's Crown Prince, Mohammed bin Salman, has described what Riyadh says is Iran's supply of rockets to the Houthis as "direct military aggression" that could be an act of war.
Iran has denied supplying such weaponry to the Houthis who have taken over the Yemeni capital Sanaa.Saudi Arabia on Nov. 4 had intercepted a ballistic missile over Riyadh's King Khaled Airport, an attack that stirred regional tensions and led the coalition to close Yemeni ports. On Nov. 30 Saudi shot down another missile near the south-western city of Khamis Mushait.