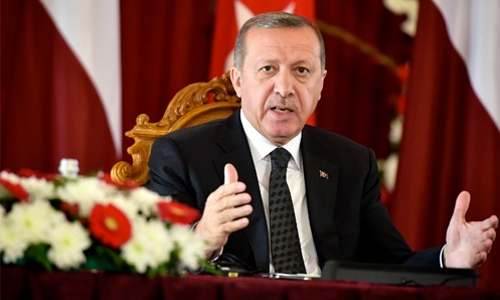 Turkey's Erdogan speaks to leaders in Qatar-Gulf row
Istanbul : Turkish President Recep Tayyip Erdogan has spoken to key players in the dispute between Qatar and neighbouring Gulf Arab countries in efforts to find a solution, his spokesman said.
Erdogan "has initiated diplomatic efforts to resolve this dispute between friends and brothers in line with the spirit of the holy month of Ramadan," spokesman Ibrahim Kalin said in a statement late Monday.
Erdogan has not yet commented on the crisis, in which Saudi Arabia, Bahrain, the United Arab Emirates, Egypt and Yemen, cut ties with Qatar Monday, accusing it of supporting extremism.
But deputy prime minister Numan Kurtulmus said Monday that Erdogan had already been in contact with several key players.
He spoke by phone with Qatar's Emir Sheikh Tamim bin Hamad Al-Thani, Kuwaiti Emir Sheikh Sabah al-Ahmad al-Jaber al-Sabah, and King Salman bin Abdulaziz Al Saud of Saudi Arabia, the state-run Anadolu news agency reported.
He also discussed the crisis, the biggest in the region for years, with Russian President Vladimir Putin.
"I would like to take this opportunity to declare once again that Turkey is prepared to do its due over the next days and weeks," Kalin said in the statement.
Turkey enjoys friendly relations with Qatar including in the energy sector, but also maintains good ties with other Gulf countries.
Foreign Minister Mevlut Cavusoglu on Monday called for dialogue and said Turkey was ready to help defuse the row.