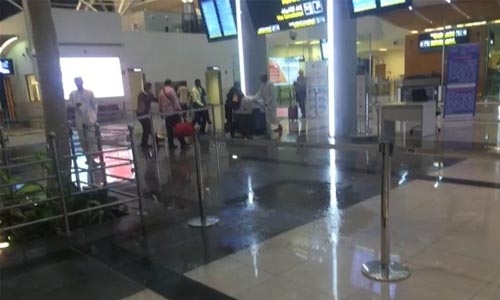 Rainwater leaks inside Salalah airport
Salalah: Amid heavy rain last night in Wilayat Salalah in Dhofar region, the Ministry of Transport and Communication has confirmed that rainwater breached Salalah Airport.

Salalah witnessed heavy rainfall last night, Wednesday which saw some parts of the city flooded. Salalah Airport was among the facilities affected where rain seeped through the ceiling and flooded the terminal.

Videos of the incident went viral on social media.

The Ministry of Transport and Communications released a statement confirming the leakage at the airport.

"The Ministry of Transport and Communications confirms what was circulating on social media regarding the leakage in the new Salalah Airport. The ministry immediately formed a team to fix the true causes of the leakage as well as launch an investigation on the issue," read the statement.

"According to the contractor's initial report, the gutters on the roof were clogged and are being cleaned," it added.

The team formed by the ministry will run an investigation today in co-operation with experts in the field.

The ministry reassured that the project is under the guarantee of the contractor and advisor who are on site and will be held responsible should there be anything wrong in all components of the airport.