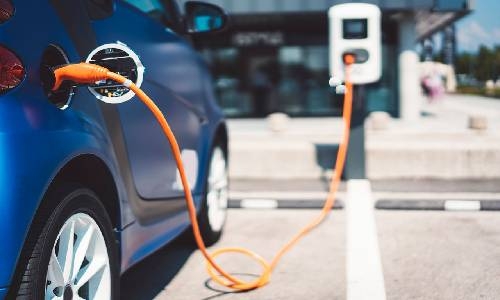 Bahrain's Electric Vehicles in Fast Lane
By KOTA SRIRAJ
Climate change and pollution has changed the way world looks at transportation and commuting. Fossil fuel driven vehicles are rapidly becoming obsolete and electric vehicles (EV) are moving into the fast lane with many countries adopting robust EV policies. This is evident by the fact the EV sales has more than doubled in the first half of 2021 worldwide compared with the previous year, even with the pandemic impact on sales. This healthy interest in EV segment powered by environmentally conscious buyers will spur the car manufacturers to race and capture the market to produce new-generation electrical cars amidst the demand for zero carbon emissions.
As part of the Economic Vision 2030, Bahrain has been adapting fast to the changing scenario of environmentally responsible transportation by proactively building the required infrastructure to meet the requirements of EV industry and its fast growing demand.
As a part of the same, the first charging station for electric cars was opened in April 2021 at the Atrium Mall in Saar, with plans to set up similar stations across the country.
The push towards electric vehicles in Bahrain market is aimed at convincing the consumer, suppliers and investors to save the environment as well as financial resources by moving from conventional to electric vehicles.
In order to promote EV segment Bahrain National Insurance (BNI) also launched the first motor insurance policy in Bahrain developed specifically for electric vehicles, as part of its efforts to promote environmental sustainability.
But in spite of these efforts, any change will take time and the same is true for EV's as well. The fact that conventional fuels are cheaper in Bahrain, makes it challenging to bank only upon economic reasons to convince the stakeholders to opt for EV's.
Currently less than 1 per cent of Bahraini motorists own an EV and the growth of this segment is hampered by the unavailability of EV spares and service. However, the moment these initial teething troubles are sorted out Bahrain will present a huge opportunity for car manufacturers and consumers alike to experience a whole new world of green commuting. The fact that on a single charge the EV user can cover the length and breadth of Bahrain is an amazing feature of EV which is hard to ignore. Similarly, the silence of the EV motors mean that sound pollution too will see a remarkable reduction is an added bonus.
With excellent road network and ever increasing charging stations, Bahrain provides the ideal environment for electric and hybrid vehicle segment to grow and thrive. The new generation Bahrainis have always represented the latest trends in the world and in this regard too, the young consumers in Bahrain will protect the environment by increasingly opting for EV's in the coming years and set the trend.
(The views and opinions expressed in this article are those of the author and do not necessarily reflect the official policy or position of the Daily Tribune).