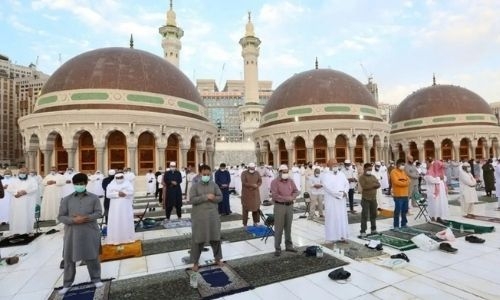 Eid Al Fitr traditions from across the globe
Agencies | Riyadh
The Daily Tribune – www.newsofbahrain.com
Eid Al Fitr is round the corner and believers gear up to celebrate the biggest day of the year in their own traditional style. After four weeks of fasting, prayers, and many sacred experiences, it is finally time to celebrate the much-awaited Eid Al Fitr.
The pious day marks the last day of Ramadan and the first day of the Islamic month of Shawwal and is celebrated on the sighting of the new crescent. Believers around the world mark the day by taking part in a host of activities. Depending on where you are, the festival may have a more localised name.
In Turkic countries, it is often referred to as Bayram, whereas some North African cultures refer to it as Eid Seghir or the little Eid. Under usual circumstances, the day starts with prayers, and a big meal is usually the main event, but there are lots of ways and traditions by which people celebrate the special occasion.
Turkey
The use of the term "Sugar Feast" for Eid actually derives from Turkey. Sweet treats like baklava and Turkish delight often make an appearance at all Eid celebrations. With 98% of the Turkish population practising Islam, it's no wonder that there is almost a week-long public holiday.
While the majority of the celebrations are often spent at home, it can be common for people to enjoy the time off to relax on the beach all day.
Egypt
In Egypt, Eid is a three-day public holiday and begins early in the morning on the first day with traditional prayers. The old and young often reap the most during this joyous time as on the first day, families will make it a point to visit elderly family members and spend quality time with them.
On the other hand, young children will receive a little money from all of those who are older than them. Wish you were a kid again? We do too. Instead of family gatherings occurring just at home, Egyptians enjoy heading out to parks, gardens, and even zoos to enjoy the festivities with those in their local community.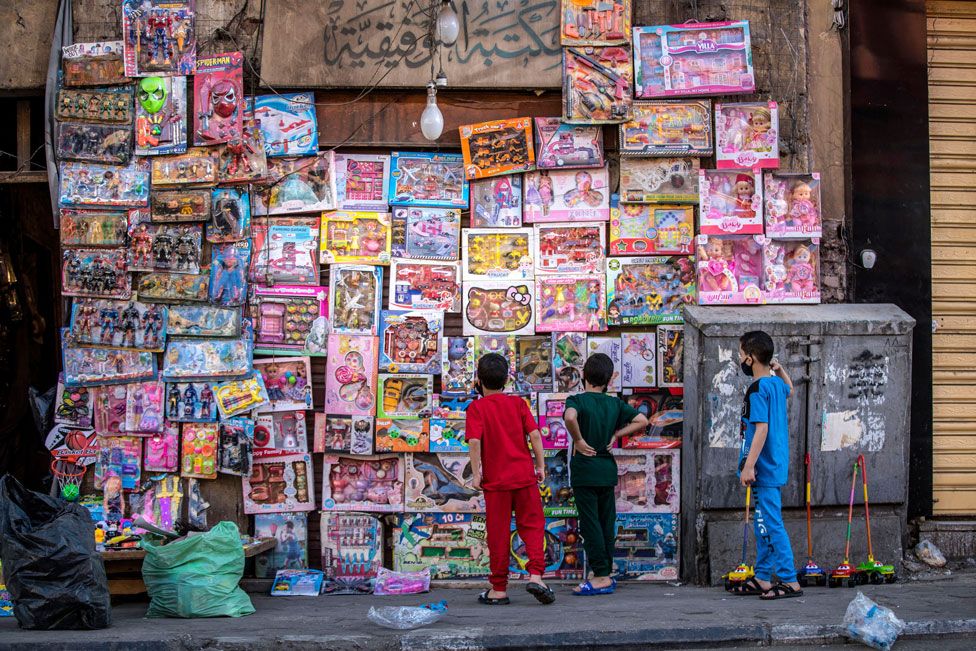 Saudi Arabia
Eid celebrations in Saudi Arabia are very similar to the rest of their neighbouring nations in the Middle East. After special Eid prayers, family and friends tend to gather with the children to enjoy traditional feasts of mugalgal, spiced lamb with tomatoes; jareesh, ground wheat mixed with meat and spices; and many, many sweet treats.
Some of the desserts on offer include honey and date cookies; another nod to why Eid is often referred to as the Sugar Feast, or more specifically in this region, as Sweet Eid. With all the sweetness on menus, it's no surprise that Eid is a joyous time especially for children.
But even more so because children in Saudi Arabia are often given Eidia gifts. These can include money, new clothes, toys, and more goodies. On the first night of Eid, people celebrate by going out in their finest, new clothes to see the fireworks and wish those in their community Eid Mubarak.
In contrast, another unique tradition includes leaving large quantities of rice and other food items outside the gates of those less fortunate as a way to give back and ensure they too, can celebrate.
United Arab Emirates
Eid celebrations in the United Arab Emirates (UAE) share many similarities to that of Saudi Arabia. Festivities often begin with early morning prayers at the Mosque and thereafter people go about their day, meet friends and family, enjoy feasts, and wish their local community Eid Mubarak.
There are also firework displays in the evenings, cultural events that include magic tricks, pop up themed parks, dance shows, and more!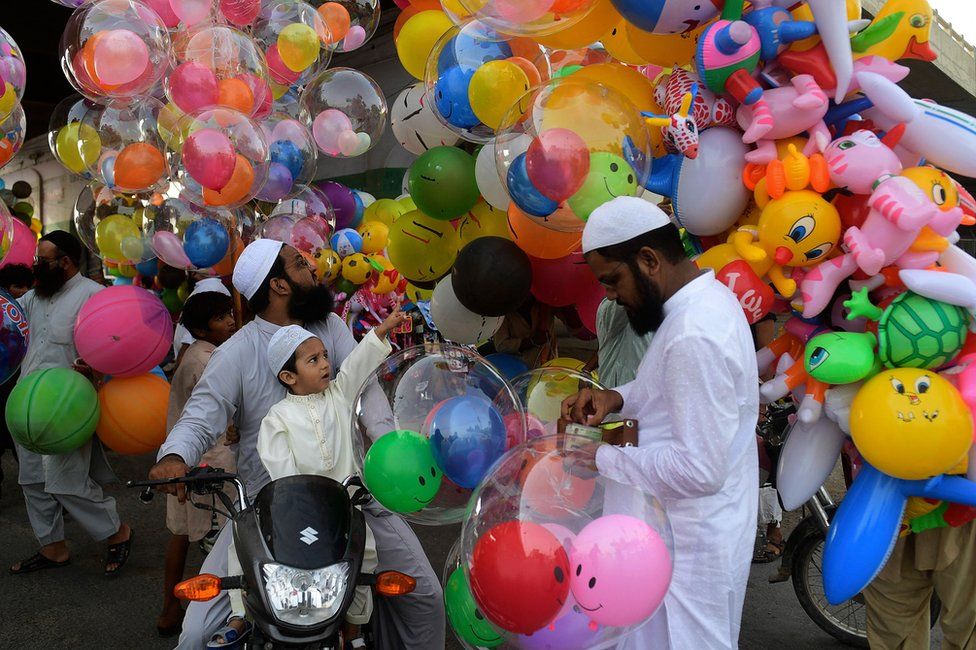 Indonesia
Eid-Al-Fitr is locally known as Lebaran in Indonesia and it is the most important holiday for Indonesians. Similar to other Islamic nations, Indonesians also celebrate with prayers, gatherings, and family reunions. One of the foremost traditions is Mudik (homecoming) where those who leave their hometowns to work in the big cities travel back to their places to spend Eid with their families.
A ritual called the Halal Bihalal is also performed during or after Eid which involves seeking forgiveness from everyone including friends, colleagues, neighbours, and relatives. Kids are gifted with colourful envelopes of money by their elders when they visit them.
Most Indonesians wear cultural clothing on Eid day, differing for both men and women in style. Relatives also visit graves of their loved ones during the festival of Eid.
Indian Subcontinent
In India, Pakistan, Bangladesh, and Sri Lanka, Eid is a very colourful affair. Women of the house usually get busy the previous day with preparing of all kinds of food such as sewaiyyah or laccha and sweets such as vermicelli noodles, followed by a trip to the malls and parlour where they apply henna on their hands.
They visit friends and relatives and greet one another and exchange gifts. It is also customary to go to the mosque and offer prayers. In some parts it is also mandatory to give charity in cash or kind to the poor. People are also seen gathering in large open grounds to feast together or just meet and exchange warm greetings after the Eid prayers.