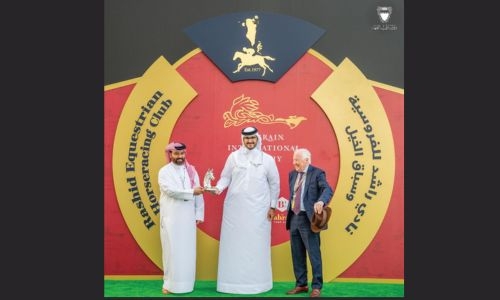 Rebel At Dawn lifts Bahrain Turf Club Cup
TDT | Manama
The Daily Tribune – www.newsofbahrain.com
Rebel At Dawn won the Bahrain Turf Club Cup yesterday as part of the eight-race programme supporting the 2023 Bahrain International Trophy at Rashid Equestrian and Horseracing Club in Sakhir.
The five-year-old gelding triumphed in the five-furlong race, carrying a $30,000 total prize, for owners Al Adiyat Racing and trainer AM Smith, while saddled by Gerald Mosse.
Ava Go Joe for Aqeel Hassan Abdulrahim and Ocean Star for Al Afoo Racing were second and third, respectively.
Byline lifted the Chopard-Bahrain Jewellery Centre Cup, held over eight furlongs and also with a $30,000 prize.
The six-yearold gelding won for the AdiyatSmith-Mosse triumvirate, with The Covex Kid in second for Al Mohamediya Racing and Ecosystem third for Mohammed Khalid Abdulrahim. Rayounpour clinched the Bapco Energies Horseracing Cup, held over 12 furlongs with a $30,000 prize.
The seven-yearold gelding took first place for Adiyat and Smith, while saddled by Richard Kingscote. American Flag finished as runner-up, also for Adiyat, while Tawaareq came third for Victorious. The Bahrain Economic Development Board Cup was lifted by Amaan.
The six-year-old gelding triumphed over a six-furlong straight for Mohamed Jasim Jaafar, Talal Al Alawi and Cristian Demuro, to take the lion's share of the $30,000 total prize. Anann followed for Al Afoo Racing and The Thin Blue Line was third for Al Mohamediya Racing.
Elsewhere yesterday, Living Art lifted The Beyon Cup for Abdulla Sami Nass, Fawzi Nass and Adrie De Vries; Khazzama won The Four Seasons Hotel Bahrain Bay Cup for HH Shaikh Hamad bin Abdulla bin Isa Al Khalifa, Haider Ebrahim and Abdulla Faisal; and Musannan 1811 clinched The World Arabian Horse Organisation Cup for Al Wasmiya, Abdulla Kuwaiti and Abdulrahim Jasim.