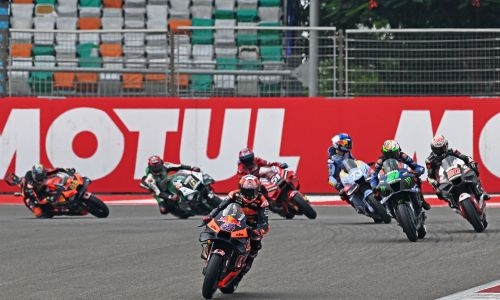 India's MotoGP race shortened after riders rail at 'horrible' heat
AFP | Greater Noida
The Daily Tribune – www.newsofbahrain.com
India's MotoGP debut will be shortened by three laps, organisers said Saturday after riders demanded the race be cut back in the face of "horrible" heat at the Buddh International Circuit.
India is hosting the 13th of the 20 MotoGP races this season at the Buddh track on the outskirts of capital New Delhi, which hosted Formula One for three seasons until 2013.
But top riders including world champion Francesco Bagnaia condemned the conditions after Friday's two practice sessions.
"You feel your throat burning on the back straight," the Ducati rider told reporters. "Your throat is burning, your legs are burning."
Aprilia rider Raul Fernandez added: "It's horrible. Sorry, but it's horrible. You cannot imagine on the bike."
It would be "difficult to manage" the race, he said. "But anyway, I think we are very professional and we have to not think of that and try to do our maximum."
Organisers said they had agreed to shorten the race.
"After gaining a first full day of experience in the hot and humid conditions -– both of which are forecast to continue -– riders have asked for race distances to be adjusted," a MotoGP statement read.
The Sprint, Moto2 and Moto3 races would all be shortened by a lap and the MotoGP Grand Prix would be cut back by three laps, from 24 to 21, "following their feedback and that of official tyre suppliers", it added.
Ahead of the race concerns had been raised about the safety of the Buddh circuit, with particular fears about walls being too close to the asphalt.
The temperature in Greater Noida was 31 degrees C (87.8 F) on Saturday morning, when riders were seen sipping liquids after their free practice session, and was expected to increase in the afternoon.
Italy's Luca Marini was fastest in Friday's second practice session, clocking a dramatic last lap in one minute, 44.782 seconds, just 0.008sec ahead of Jorge Martin.