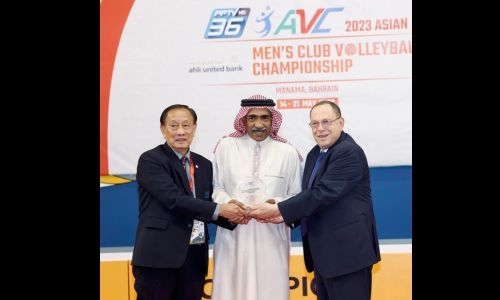 Bahrain volleyball chief hails success of Bahrain's hosting 2023 Asian Men's Club Volleyball Championship
TDT | Manama
The Daily Tribune – www.newsofbahrain.com
Hosting of prestigious tournaments such as the just-concluded 2023 Asian Men's Club Volleyball Championship develops teamwork within the Kingdom's volleyball community and shines a spotlight on Bahrain on the global sporting stage.
This was highlighted by Bahrain Volleyball Association (BVA) president Shaikh Ali bin Mohammed Al Khalifa, who expressed his pride in the work of all those involved behind the scenes in the successful running of the Asian clubs event, which came to a close Sunday night at Isa Sports City in Riffa.
"I am so happy that our strategy of organising these championships is building teamwork within our people," Shaikh Ali told TDT.
"With the experience gained in these prestigious events, in the future we can organise any championship. "I am extremely pleased that all participants are happy with the organisation. This was our goal—firstly, to promote the Kingdom of Bahrain at the highest level, and to promote our sport of volleyball, both in Bahrain and in Asia, for the best in the future."
Shaikh Ali also expressed his delight in the constantly strengthening relationship between Bahrain and the Asian Volleyball Confederation (AVC).
"I thank AVC president, Madame Rita Subowo, and all AVC board members, for giving the opportunity to the Kingdom of Bahrain to organise these prestigious Asian championships in our country," Shaikh Ali said.
"We promise that we are constantly trying our best to build up our trust with the AVC, so we can host even more championships in the future."
This year's Asian clubs championship was the second time Bahrain hosted the competition.
The first was in 2007. The Kingdom has also staged a number of other top AVC tournaments in the past, such as the Asian Men's U20 Volleyball Championship, held in 2022, 2018 and 2014.
The Kingdom is also set to stage the FIVB Men's U21 World Championship from July 7 to 16, with the participation of 16 nations including hosts Bahrain, Iran, Thailand, Tunisia, Italy, Brazil, Egypt, Mexico, Poland, Bulgaria, Canada, India, Argentina, Belgium, the Czech Republic and the US.
"The Asian clubs championship was the perfect prelude for our guys to get ready for the FIVB world championship in less than two months' time," Shaikh Ali said.
The upcoming International Volleyball Federation (FIVB) event will be the fourth time it is being held in Bahrain. It also took place here in 2019, 1997 and 1987.
Italy are the defending champions.
Asian clubs champions the Suntory Sunbirds celebrate their victory after the final