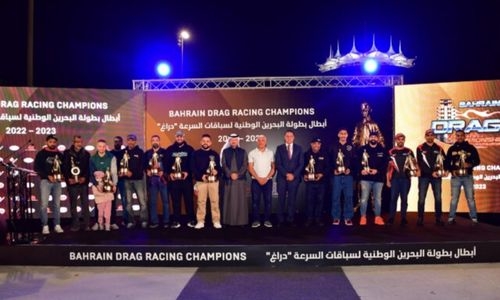 Drag racing champs crowned!
TDT | Manama
The Daily Tribune – www.newsofbahrain.com
Bahrain International Circuit (BIC), "The Home of Motorsport in the Middle East", crowned on Saturday night the champions of the 2022/2023 Bahrain Drag Racing Championship.
The region's leading drag racing series came to a close last week with the season's fifth and final round, and the awards ceremony took place the evening following all the action at the BIC Paddock.
BIC COO Fayez Ramzy Fayez was on hand to honour the titlists, as were officials from BIC's drag racing team, the Bahrain Motor Federation, the Bahrain Drag Racing Commission and the Bahrain Motorcycle Commission.
Thirteen titles were claimed and their corresponding Wally trophies were handed out.
The Wally is a prestigious accolade named after NHRA founder Wally Parks.
It is awarded only to champions of National Hot Rod Association (NHRA)-sanctioned events around the world.
BIC is part of the prestigious NHRA Worldwide Network, a programme that enables facilities globally to conduct events under the NHRA banner.
Headlining the list of this season's champions was Khaled Al Balooshi of Bahrain1Racing.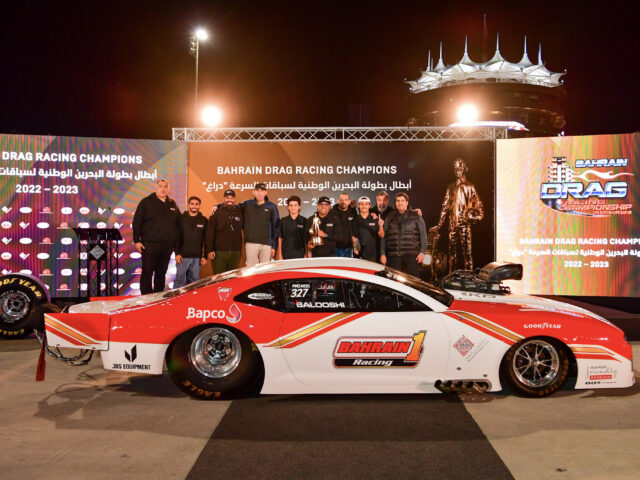 The Emirati claimed the title in the Pro Mod category for the second successive season, and in doing so highlighted Bahrain1's high-standing in the sport while making yet another addition to their glittering trophy cabinet.
Meanwhile, five Bahrainis came away with the coveted championship for their respective categories.
They included Hussain Almahroos for the 8.5 Index class, Zakrya Al Kuwarii for the Outlaw 4-Cylinder, Yousif Alzayani for the Outlaw 6-Cylinder, Hussain Ahmed for the Pro 29.5 V8, and Youseif Youseif for the 8.5 Index Bikes.
The other champions in the cars categories were Musabeh Alkaabi from the UAE in the 10.0 Index, Adel Alsalman from Kuwait in the 9.0 Index, Sayed Hussain Alhaddad in the 7.5 Index, and Ibrahim Abbas from Kuwait in the Competition 4.5 class.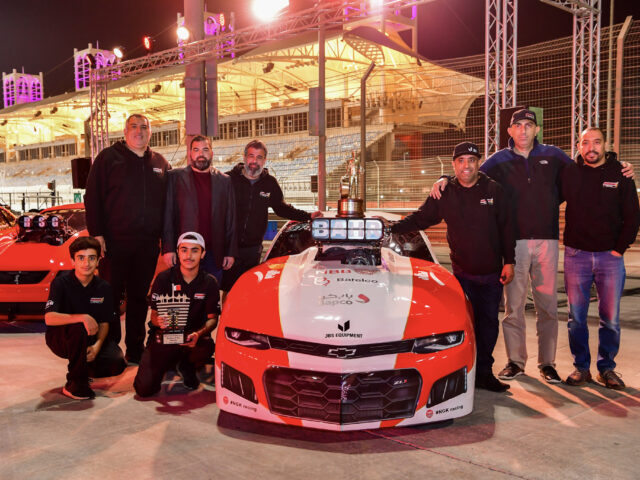 In the bikes categories, three Saudi competitors were the other champions, including Waleed Albadeen in the Street Fight Bikes 9.5, Mishari Alturki in the Pro Street Bikes and Jihad Aljamal in the Outlaw Bikes.
Two other awards were presented on the night for the top newcomers over the past season.
Rashed Khaled Al Balooshi, the son of Bahrain1 Racing ace and Pro Mod champion Khaled Al Balooshi, came away with the Rookie Driver for Cars distinction, while Bahraini Qasim Ahmed Jaffar was named the Rookie Driver for Bikes.
The 2022/2023 Bahrain Drag Racing Championship featured five rounds, kicking off in early December of last year.
It is the longest-running and most popular drag racing series in the region, with competitors coming from all over the world, particularly the Gulf region.