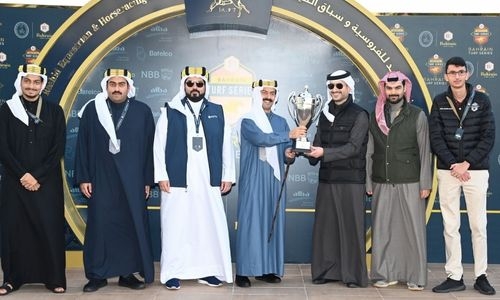 Arctic Emperor lifts Lexus Cup
TDT | Manama
The Daily Tribune – www.newsofbahrain.com
Arctic Emperor lifted the Lexus Cup in the feature race yesterday at Rashid Equestrian and Horseracing Club (REHC) in Sakhir.
Ridden by Neil Callan, the Al Mohamediya Racing-owned, Hesham Al Haddad-trained five-year-old gelding triumphed in the 12-furlong race in two minutes 28.242 seconds to claim the lion's share of the BD4,000 prize.
King of the Throne finished second for Al Afoo Racing, Mohamed Hasan and Francesco Dettori while Tartan Chief was third for Mohamediya, Ali Abdulmajeed and Liam Keniry.
Three other Lexus Cups were on offer on yesterday's eight-race card.
Dairerin won a Lexus Cup in race seven for Onyx Racing, Jaber Ramadhan and Anas Al Siyabi.
The event was held over seven furlongs with a BD2,000 prize, with Dairerin taking first in 1:22.336.
Thahaby was the runner-up for Ghalya Raed Ali Abdulla, Abdulla Haji and Marcialis Jaures; while in third was Nine Below Zero for the trio of Al Afoo, Hasan and Dettori.
In the fourth race over a six-furlong straight with BD4,000 in prize money, Wowzers won the Lexus Cup for Mohamediya, Al Haddad and jockey Ali Hussain in 1:12.333.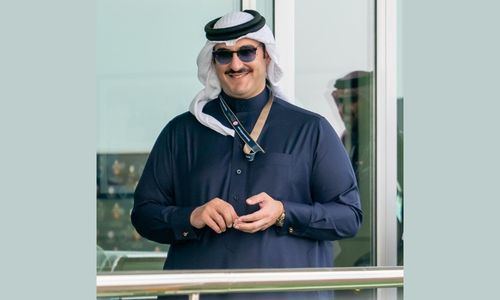 Pure Dreamer was second for Al Adiyat Racing, AM Smith and Hussain Asghar while Graphite Storm came third for Al Hassanain Racing, Ali Jan and Abdulla Al Hawaj.
The last Lexus Cup in race three was claimed by Waqiaah.
Francesco Dettori won in the five-furlong event with a BD2,000 total prize for Al Afoo Racing and Mohamed Hasan.
Lavender came second for the Mohamediya-Haddad-Callan triumvirate while Miblish was third for Al Nuwayef Racing, Yousif Taher and Anas Al Siyabi.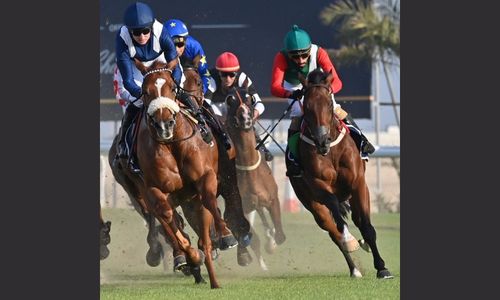 Meanwhile, Krushan 1973 lifted the Hasan bin Saleh Al Rowai Cup, the other trophy on offer yesterday.
Ebrahim Nader saddled the winner to first place in 1:23.934 for Al Roudha and Hussain Aldailami.
Musannan 1811 and Musannan 1781 were second and third, respectively.
Elsewhere on yesterday's race card, Shu Taibah won in race two, Jabarah triumphed in race five and Royal Scimitar triumphed in the day's sixth race.